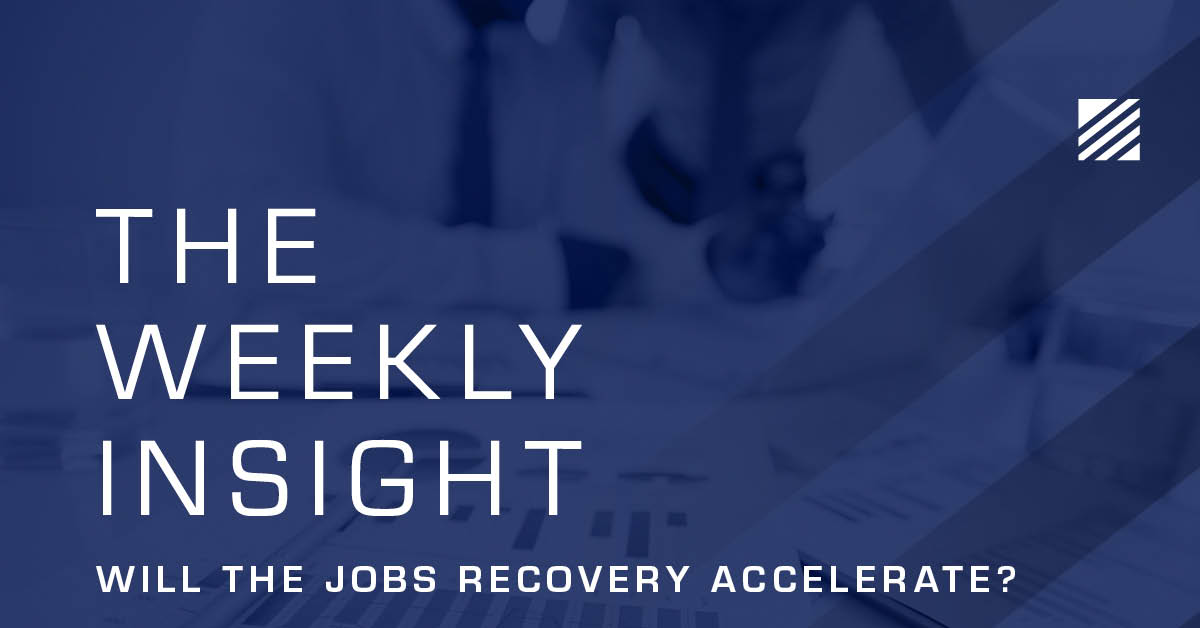 It was a holiday shortened week in the market, but it wasn't without a bit of volatility. The S&P 500 closed each session of the week lower than its previous day, ending the week down 1.69%. We talked a bit in our last memo about the "September Effect" on the market. While we don't believe it's a real thing, last week was one that – while not dramatic – may convince some it does exist.
Maybe it is an indicator we're going to be in for a long month. Maybe it isn't. The markets opened this week positive, and there was some good news last week for portfolios. We're just a few weeks away from what looks like a very positive earnings season. This is still a market that is worth participating in. Let's look at what we learned last week and see why.
Jobs, Jobs, Jobs
There wasn't much last week in terms of significant economic data.  But there was one piece that is worth looking at: jobs.
There was a BIG transition last week that didn't receive a lot of mention in the media we were consuming:  the end of the Federal unemployment checks which began in 2020.  Let us be clear:  we are not celebrating the end of support for people who are struggling during this time.  But getting people back to work is a big piece of getting us past this pandemic.
The end of the pandemic unemployment assistance means there are now roughly 7.5 million people who stopped receiving benefits ($300 per week) last week.  Some will still have some level of state benefit.  Roughly 2.5 million will no longer have any unemployment support.
This change came during a week when we saw some significantly positive news on the employment data front.  It started on Wednesday when we got the JOLTs Job Openings report.  This is a "month ago" number which shows how many jobs are available for workers.  The expectation was the July 30th figure would come in at 10 million jobs.  Instead, it came in at 10.984 million – a significant surprise to the upside.  The economy is making jobs right now.  And the numbers have been improving month after month since the beginning of the year.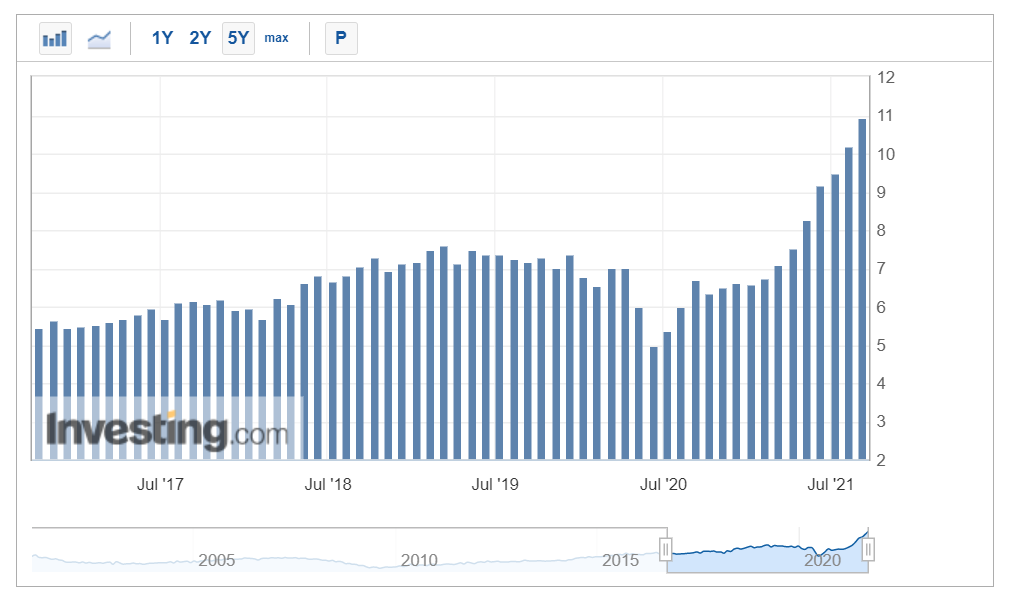 We also saw a significant beat in the weekly jobless claims data which came out on Thursday.  Last week we saw 345,000 new jobless claims.  The expectation was we would see 335,000 this week.  The number was 310,000 – 10.14% lower than last week.  The decline – certainly correlated to the new jobs created – has been consistent throughout the year.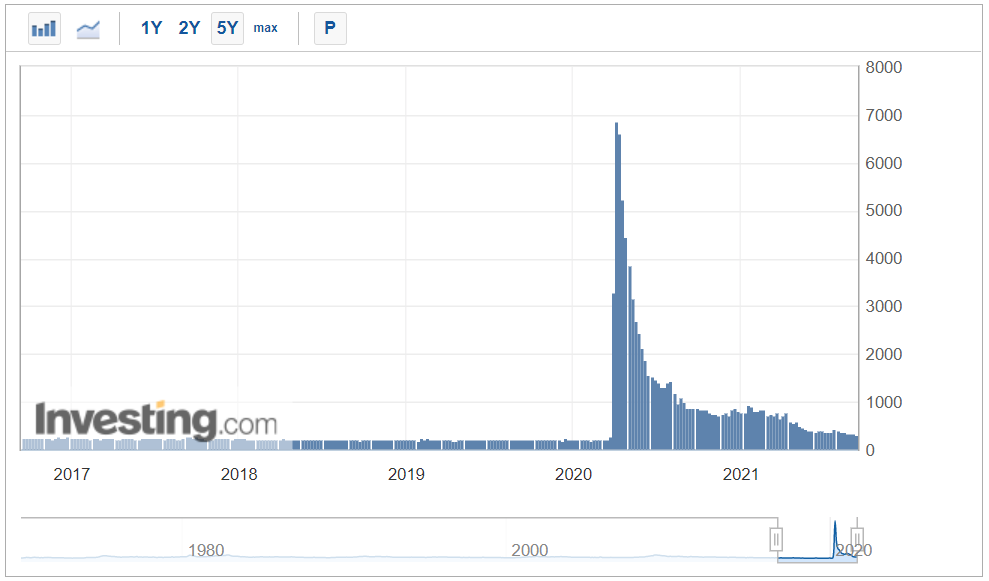 What happens next will be interesting to watch.  When we cut off federal unemployment benefits after 2008, there were 1,000,000 people still receiving checks.  We've never done this with this many people receiving benefits, so we don't know exactly how this will work.  It's safe to say those 7.5 million consumers will be spending less money today than they were a week ago.  That will have a small, but negative, impact on the economy.  But this may continue to drive employment numbers up helping to alleviate our current labor crisis.
One final point on this.  A few months ago, 26 states decided to end their participation in the Federal unemployment program ahead of the program ending.  This was a very partisan process.  25 of the 26 states were led by Republican governors.  But today there isn't much partisan drive to change this outcome.  There is no bill being seriously debated in Congress – or asked for by the White House – to extend these benefits.  There's not a lot of discussion of it, but Republicans and Democrats seem to agree it's time to end this program. 
COVID Update
This was a big week on the COVID front.  We won't recount the Biden Administrations announcement on COVID vaccine requirements, as you've all heard them at this point.  But it's safe to say it has continued to drive partisan frustration.  The Republican National Committee announced this week they intend to sue the Biden Administration over the new requirements.  That will be an interesting test of the Administration's authority.
With all of this going on, we pointed out last week that the CDC's forecast for the path of the virus was turning positive.  Yet again this week, we haven't heard much about this in the media.  And yet again, the data looks a little better this week than it did last week. 
This morning the 7-day rolling average of new cases in the U.S. was 145,724 cases.  That is the lowest number since August 19th and is down from a peak of 166,105 cases on September 1st, a 12.27% drop.  Given the "kids going back to school" surge has likely hit by now, this is good news.
The question is whether this trend continues.  The CDC forecast data for this week shows a drop in cases every week for the next four weeks.  This would be incredibly good news for the economy.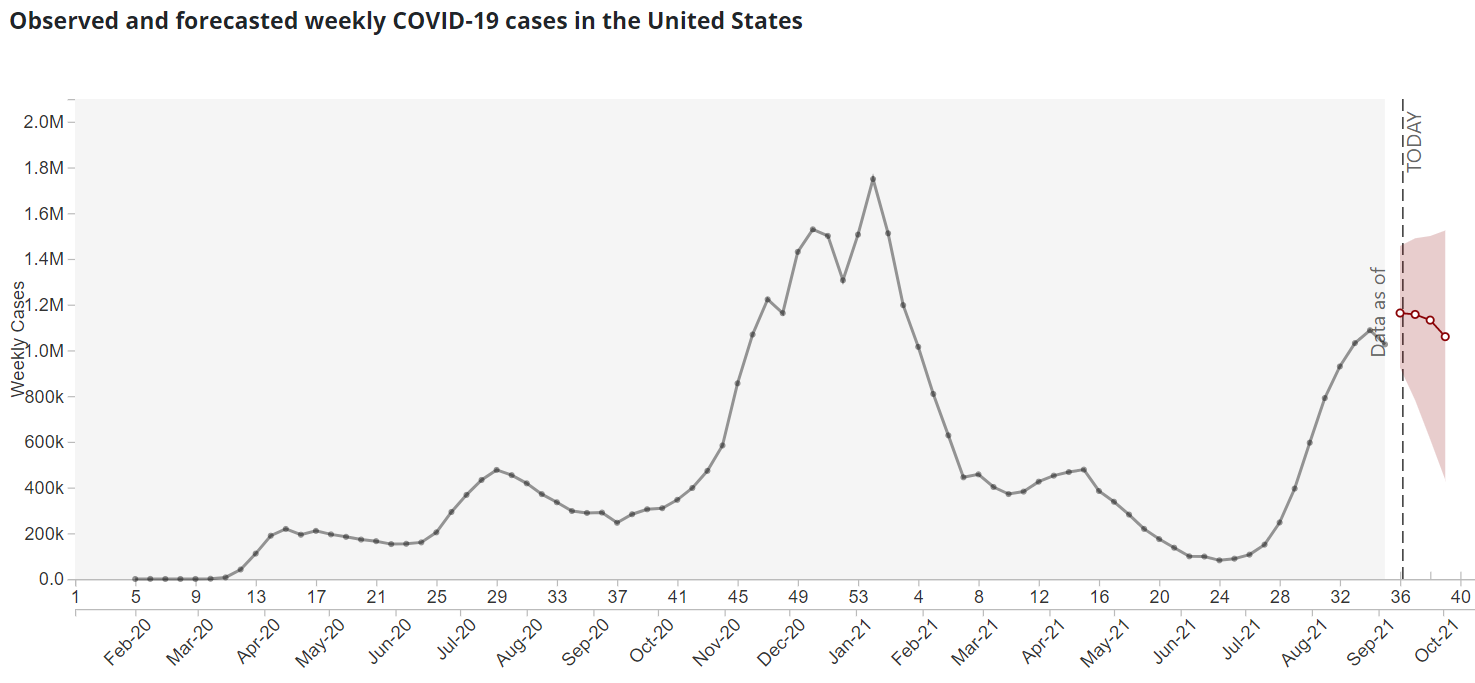 There's an Energy Story Emerging
No matter what portfolio you have with Insight, you have a significant allocation to energy.  That may be in companies like Birchcliff Energy, which is a producer of natural gas (and some oil), the Exxon Mobile & Chevron's of the world in our Dividend Model, or energy master limited partnerships like the MLPDX fund in our core portfolios.  We have long held that energy was going to see a significant boost as we came out of the COVID recession.
That story has been coming true for a while, but we may be seeing a new phase in this process.  An expanding economy, coupled with the well shut-ins from Hurricane Ida, and combined with less money being put into production has the potential to have a significant impact on energy prices as we head into the cold winter months.
This morning saw a natural gas prices (for the forward month contract) reach their highest levels since 2014 – peaking at more than $5.20/MMBtu.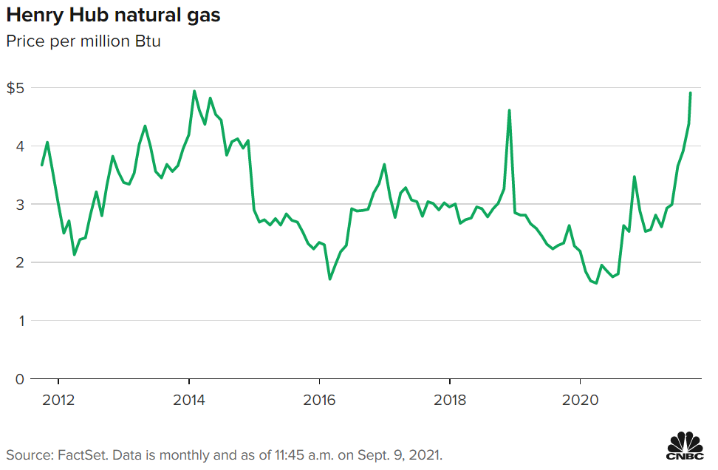 While that number is significant, it's also important to note that the November, December, January, and February contracts are all significantly above $5 right now.  The January contract reached as high as $5.41/MMBtu this morning. 
Weather has certainly had an impact on this throughout the year.  Extremely hot temperatures in the early summer caused a significant spike in electrical demand fueled by natural gas during the summer.  Hurricane Ida has had an impact on production.  But the real story is the lack of drilling happening right now. 
Banks who lend to energy producers have spent the last few years pushing the producers to clean up their balance sheets.  This has limited the capital producers have been able to put into production (same in the oil space as well).  That – combined with the extreme limitations on production during the start of the pandemic – has meant supply isn't currently keeping up with demand.  Oil and gas rig counts in the U.S. are just over half what they were before the start of the pandemic.  The economic recovery that's taken place across this economy hasn't taken place for oil drillers.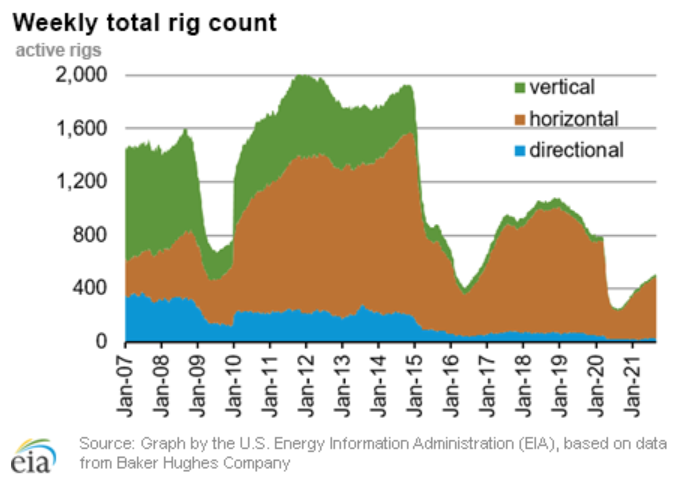 This is going to be an important one to watch in portfolios over the coming weeks and months.  You may see us being particularly active in trading in this space to take advantage of the wins we've seen in portfolios.
That's it for now.  We hope you have a great week!
Sincerely,