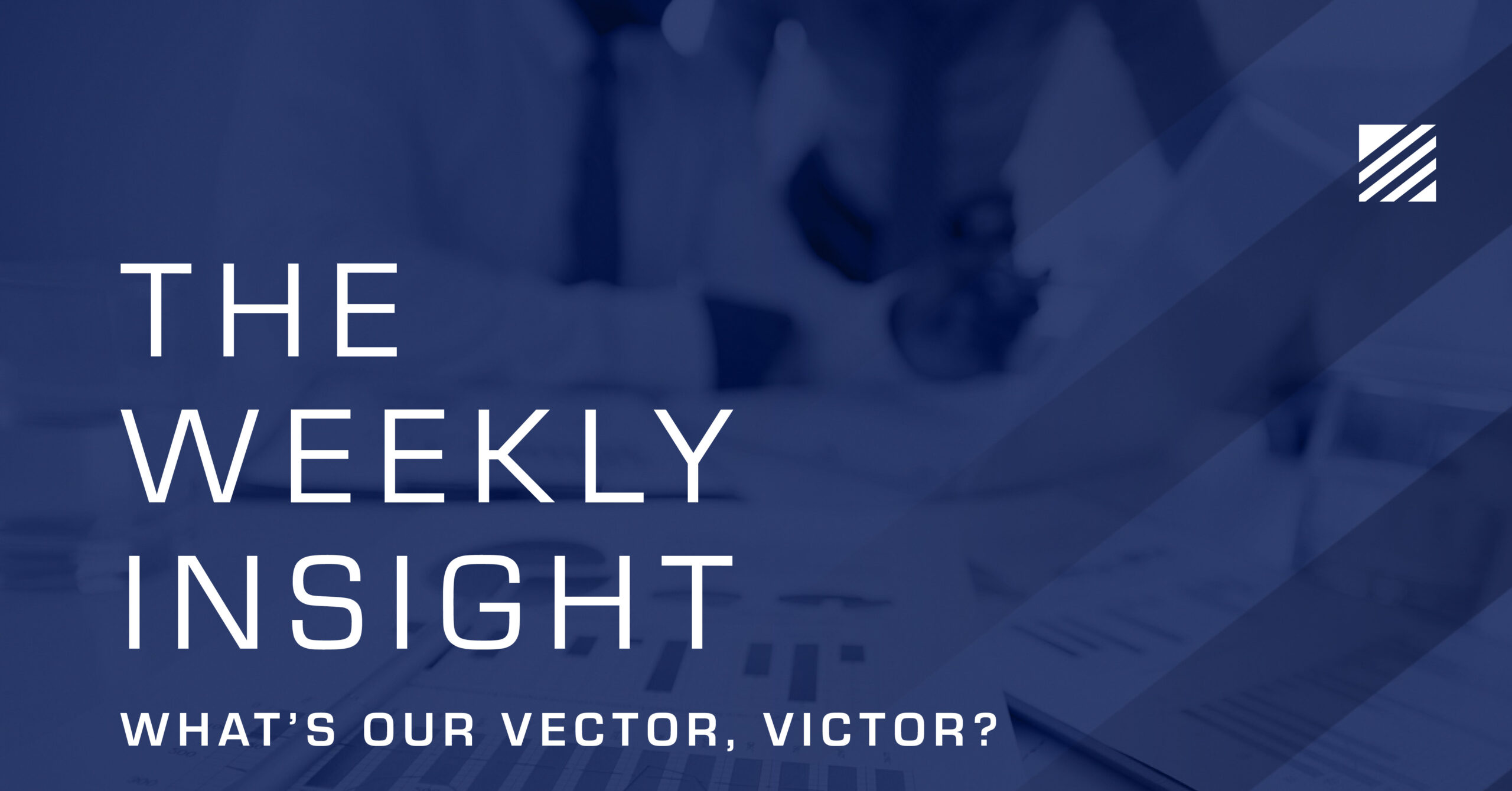 The Weekly Insight Podcast – What's Our Vector, Victor?
---
The economy is an airplane. At least that's what some might think when they hear the pundits talking about it these days. Terms like "soft landing" and "headwinds" keep coming up. It is starting to feel a little bit like the movie "Airplane" with Jim Cramer playing Captain Oveur and Jerome Powell playing Victor Basta: "What's our vector, Victor?".
The truth is – thankfully – a little less comical. We would like to think the folks at the Federal Reserve are significantly more serious about this plot. They have laid out the general flight path and are doing all they can to account for the turbulence. But the market – much like the passengers on a commercial flight – have very little information and are making (often uninformed) assumptions about what is right (or wrong) with the plane.
The past two months was pretty nice in the beginning when we did not have to worry about yet another Fed meeting to disrupt the market. A good July inflation print caused some optimism and things were serene. But as we get closer and closer to the next Fed meeting, anxiety continued to rise.
But here's the good news: the options for this upcoming Fed meeting (next Wednesday) are not "safely land the plane" or "die in a fiery plane crash". They are much less dramatic than that. So instead of anxiety, the best we can do is what we always do: digest the information available to us and weigh whether the risks are too large to continue our exposure to public markets. So, let's take a dive through the information available right now and make that call.
Powell Speaks Again
Last Thursday, Chairman Powell gave what will be his last public comments before the next Fed meeting. His message was a further restatement of his comments at Jackson Hole: we cannot stop now.
"We need to act now, forthrightly, strongly as we have been doing, and we need to keep at it until the job is done…My colleagues and I are strongly committed to this project, and we will keep at it until the job is done".
The message is clear: Powell is not done raising rates. But there was another important message he relayed on Thursday: he thinks this can all be done while "avoid(ing) the kind of very high social costs that Paul Volcker and the Fed had to bring into play" in the 1980s.
This is the idea of a "soft landing". Powell is saying he thinks he can land the plane without causing the type of massive recession that Volcker had to initiate to chill inflation. Why? Because Volcker's predecessors did not have the gumption to see the process through leading to a worse and worse situation. Inflation expectations became untethered in the economy and inflation begat more inflation.
Powell thinks they are already out in front of this, and enough persistence can beat the inflation bug.

Market's Two-Fold Reaction
We talked in depth after Powell's Jackson Hole speech about how the fear of a 75-basis point rate increase caused the market to retrace a substantial amount of the July and August gains. Both before and after Powell's remarks this week, we saw major institution after major institution announce their belief the Fed would, indeed, go forward with a 75-basis point increase. In fact, as of Sunday evening, the odds of a 75-basis point hike have now gone up to 88%, higher than the 57% odds we saw one week ago.
But continued strong economic news coupled with Powell's nod toward a soft landing had a positive impact on the market this week. Markets were up over 3% in the holiday shortened week and sit more than 10% off their June 16th bottom.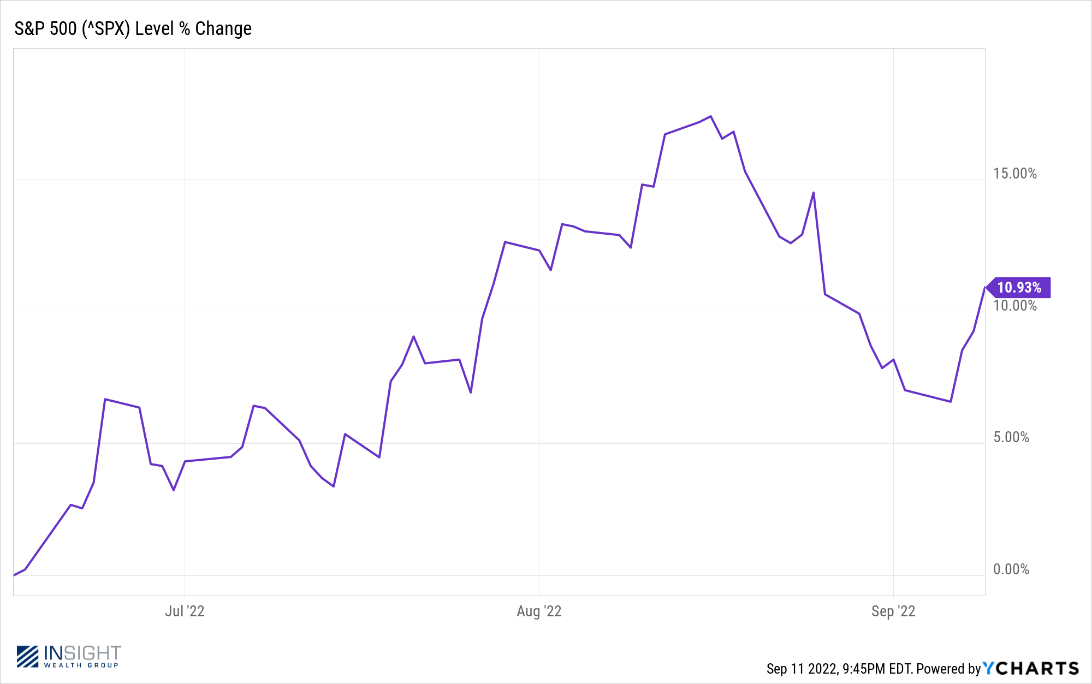 Past performance is not indicative of future results
Our Vector Will Be Much Clearer Tomorrow
We talked at the beginning of this memo about the importance of using the information we have at hand, and not being caught up in the emotion of the moment. Well, tomorrow we are going to have a lot more info. At 8:00AM we are going to have the August inflation data. We know we have talked about every inflation report going back to March in these pages, but this one is a big one.
Why? One good inflation print (July) is not enough for Powell & Co. to say we have a trend. While two good prints are not enough to say we have beaten inflation (that was the whole point of Powell's recent comments), it will give us a much better understanding of our "flight path".
This is all an expectations game. And right now, the expectations for the August inflation data are mixed. Economists are expecting year-over-year Core CPI to be slightly higher (6.1% – up from 5.9%) and All-Items CPI to drop substantially (8.1% – down from 8.5%). Notably the month-over-month for Core is expected to be flat and the All-Items month-over-month is expected to drop for the first time in 2022.
If that's exactly how it works out, it would be a pretty good report, but it is also possible Powell still bumps rates by the larger 75-basis point amount. A report worse than these expectations almost guarantees 75-basis points. But if it's better than expectations? Expect a wild swing in the expectations back towards 50-basis points.
Here is the good news: 75-basis points is already baked into the market. Yes, a bad inflation print would not be fun in stocks and bonds for a few days. But market makers already know the actions that will then be taken. Anything better than that will be beneficial to the market, especially when we continue to get positive news elsewhere in the economy. Things like the consumer confidence report on August 30th that showed a big spike in optimism. Or the manufacturing PMI data that came out on September 1st which showed an unexpected expansion of our manufacturing base. Or the fact that the labor force participation rate climbed in August (meaning more people are looking to go back to work).
Simply put, the pundits were already expecting the plane to crash into the ground, and that crash was priced into the market after the Jackson Hole speech. That leaves us a lot of room for Chairman Powell to overdeliver, even if that includes another big rate hike.
Sincerely,