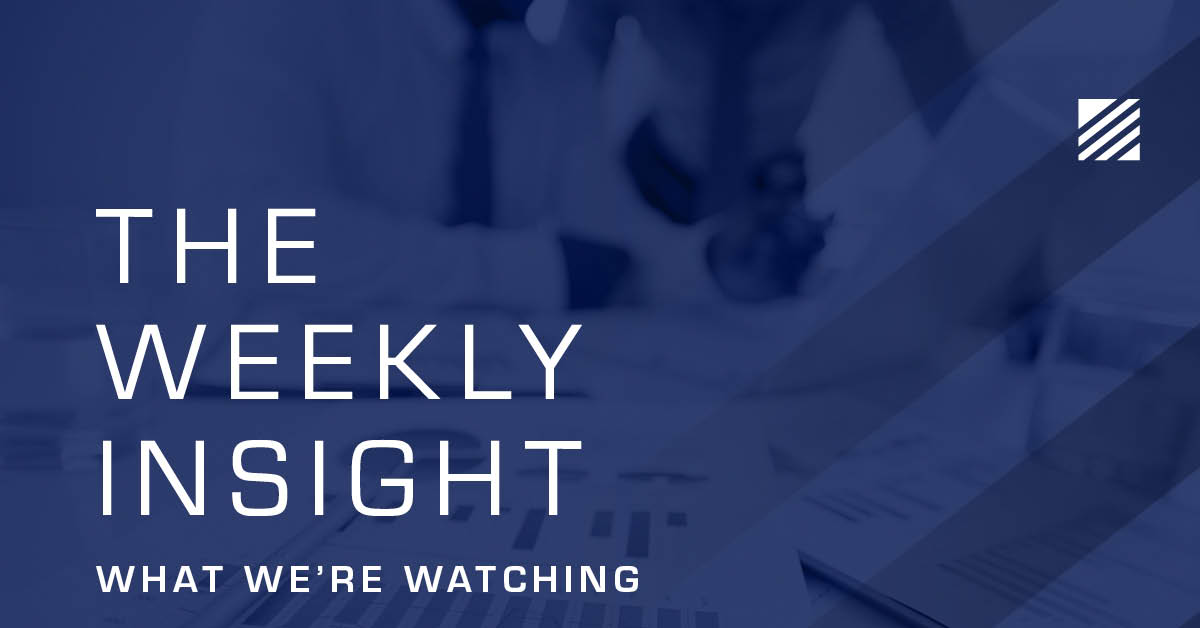 Happy Easter! This was a special weekend in the Insight Family as many of us were able to come together to celebrate the Easter Holiday – the first time we have been able to get our families together in over a year. Vaccines have been given. Masks have been worn. But there truly is nothing like seeing your family – and giving them a hug – after a long, long time of forced separation. While we hope everyone is being smart about this virus – we also hope you are able to reconnect with those you love. Connection is important.
As the holiday took hold, it was a fairly benign week in the market. The dirty little secret is that the market makers – much like everyone else – like getting out of town for a long holiday weekend. The markets were closed on Friday, and the rest of the week was positive but uneventful. There were some good employment numbers that came out Friday. They seem to be having a positive impact on the market today.
Over the last few weeks, we have been focusing this memo on our "three pillars" for success in 2021: recovery from the virus, stimulus from the government, and low interest rates. While these are all working in our favor right now, we also spend a lot of time thinking about the "bogies" that are out there that may screw all of this up. We remain confident in a strong 2021, but we wanted to bring you into the loop on a few things we are focused on that may be hurdles to continued economic growth.
Supply Chain Disruption
Last week we all got to watch the saga of the Evergiven – the ship stuck in the Suez Canal. This was not a small deal.  Estimates put the cost of this issue at $400,000,000 per hour to the world economy. While this was a dramatic event, and one which had a direct impact on the U.S. and world, it was not a "run for the hills" moment.  It did, however, get people talking about the supply chain.  This is an issue we have been focused on for a while now as we recover from the pandemic.
The macro economic issues surrounding the pandemic are at play here.  Workers were sent home.  Factories were shut down.  The world went into a "pause" as we worked to stop the spread of the virus.  But then, as the world begins to come back online, manufacturers are not able to immediately flip the switch.
This is particularly relevant in the production of semiconductor chips.  These microchips are used for pretty much everything:  computers, cars, phones, etc.  And right now, the shortage of chips is causing manufacturers down the supply chain to cut production and delay product launches due to the shortage of chips.
It does not help that making a semiconductor is perhaps the most highly complex manufacturing process on the planet.  It can involve thousands of process steps and hundreds of advanced machines to pack tens of billions of transistors onto a chip the size of a quarter.  As you can imagine, this process is expensive and takes time with lead times on some orders lasting as long as 26 weeks.
This gets to the issue of inflation we talked about last week.  As we work through this period of supply chain shortages, it makes sense that prices will rise.  We would agree with the Federal Reserve, however, that this should be a short-term consequence of the pandemic and – as the economy ramps back up – the manufacturing of these products should catch up with demand. 
The White House is focused on this issue as well.  Last month President Biden issued an executive order with an aim to improve supply chains for critical products.  There is up to $37 billion in the next infrastructure bill for this very issue.
In the meantime, we are focused on this in portfolios.  Several of our mutual fund holdings own allocations in semiconductor stocks which should perform well during this shortage.  Additionally, the Insight Dividend portfolio has a nearly 8% weighting to the tech sector including 5 U.S. companies – Intel, Microsoft, Cisco, HP, and Broadcom – which manufacture chips.  Each of these companies may stand to benefit from a U.S. push to increase chip manufacturing and shore up supply chains.
The Specter of Rising Taxes
The next big bogie to watch is the prospect of rising taxes. In a sense, we must give the Biden Administration credit: at least they are willing to admit they cannot spend forever without providing for additional revenue for the Federal government. While we may not like it, in the end the piper will have to get paid.
Estimates of the potential Biden tax increase put it as the largest tax increase since the Johnson Great Society tax hike in 1968.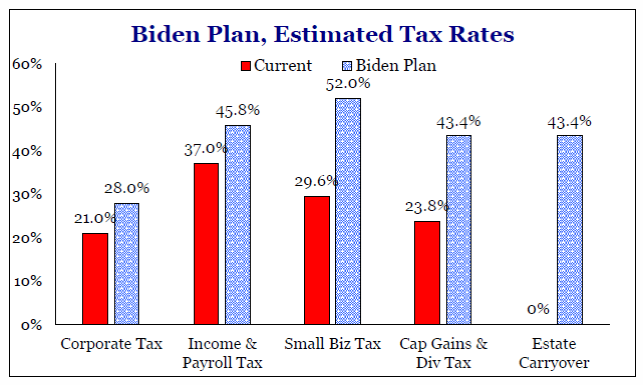 Source:  Strategas
The tax increase would hit most sectors of the economy – but would be focused largely on corporations and the biggest earners.
Right now, our expectation is this bill – while it may be passed in late 2021 – would not be effective until 2022.  We will see.  The Republicans in the Senate will still have some say on how this goes.  But if they are successful in passing this bill, we would focus you on two key points:
A hike in the corporate rate to 28% (still below the rate pre-Trump) is estimated to have a 10% hit on S&P 500 earnings in 2022.

 

Either forward P/E is going to have to rise or market prices will have to fall.

 

This could have a significant impact on the market's trajectory next year.
A hike in capital gains tax rates (from a max 23.8% to a max of 43.4%) may be the easiest thing to pass.

 

If it passes this year – but is not implemented until next year – we would anticipate many market participants taking profits in 2021 to lower their future capital gains exposure.

 

We will watch this closely in portfolios and you may see us take some profits as well depending upon the landscape.

 

This will be an important discussion in your tax planning conversations this year.
This is all speculation at this point.  The Biden Administration has grand plans and needs to pay for them.  The debate in Washington will be intense.  We will watch closely on your behalf to see how this may impact you and your portfolio.
Until next week, we hope this finds you well.  If you have any questions or concerns about how these issues may impact your portfolio, please do not hesitate to let us know.    
We hope you had a happy Easter weekend and enjoyed this lovely Spring weather!
Sincerely,