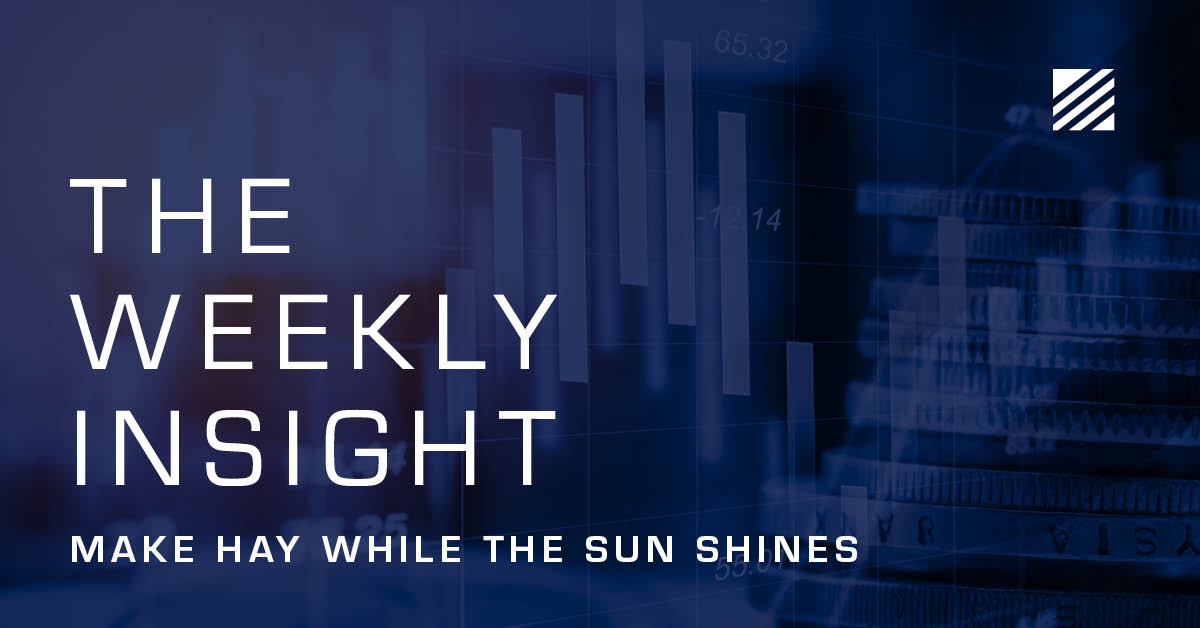 Another week and another step closer to getting back to normal. We do not know about you, but around this office and community there is a sense of optimism in the air as flowers begin to bloom, vaccines get injected, and the economic machine starts coming back to life. While it certainly is not going to be all up from here, there is much to be optimistic about right now and – you know what – we deserve it after the year we have all been through. 
From a stock market perspective, things are going well lately as we have not experienced a significant uptick in volatility since the end of January. And as many readers are aware, the S&P 500 hit the 4,000-point mark for the first time which is a commendable milestone. What is not to love about rallying markets and record highs? But our clients know this trend will not last forever as we are bound to experience some bumps and hiccups along the road of recovery. 
Some investors look at the rising valuations and say the market is getting too far ahead of itself. That may be true. But analyzing the data reveals a stock market in a relatively healthy place with around 93% of stocks in the S&P 500 above their 200-day moving average. The last time we saw a reading this high was back in 2013. This is also a much different tale than the one we discussed throughout the better half of last year when it seemed the only stocks driving the market were the mega-cap tech stocks (the "FANMAGs" as we like to call them).
As the saying goes "a rising tide lifts all boats." This week we will dig into some of the economic developments and data supporting this "rising tide." 
Jobs Growth
Last week we briefly mentioned the March jobs report which was released on Good Friday.  To put it simply, the numbers were great.  The American jobs market roared back to life in March by adding 916,000 jobs.  This was more than the two previous months combined and blew the socks off the consensus estimate of 657,000. 
This surge in businesses reopening and rehiring has certainly fueled optimism of recovery.  As you can see in the chart below, we have made significant progress since jobs fell off a cliff at the end of March last year.  But we still have a long way to go with about 8.4M less jobs than we had pre-pandemic.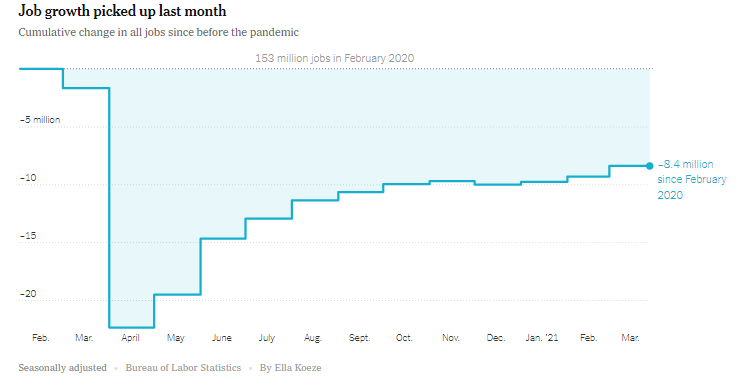 Another good-looking chart is the headline unemployment percentage dropping from close to 15% last spring to 6% currently.  While this is great progress, there is much work to be done.  The real unemployment rate, which factors in discouraged workers and those holding part-time jobs for economic reasons, is still elevated at 10.7%.  This is the number the Fed is focused in on and they have continued to reassure market participants that tackling this issue – along with controlling inflation – is their top priority.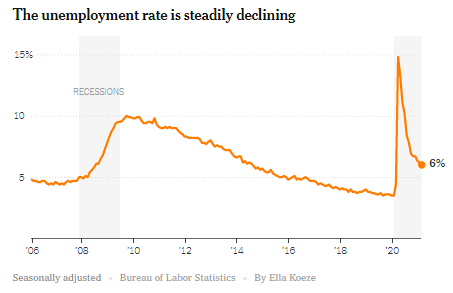 Initially, it was estimated that it could take until 2024 to recover all the jobs lost in 2020.  However, given an expected hiring surge and the potential for job creation topping 1 million for each of the next several months, many economists think we could be back at full employment as early as next year.
Manufacturing & Services Indexes
A positive byproduct of job growth is that it results in increased demand for goods and services.  This surging demand showed up in last month's ISM (Institute for Supply Management) manufacturing and services indices.  As a refresher, ISM conducts a monthly survey of manufacturers and other businesses to get a feel for business activity such as new orders, supplier deliveries, production, inventories, and employment.  Although it is a simple survey, it is an extremely powerful leading economic indicator market stakeholders rely on to understand where the economy is headed.
A reading above 50 indicates that manufacturing is expanding and vice versa.  March's ISM Manufacturing Index came in at 64.7.  Referring to the chart from Strategas below, the goal is to be in the upper right-hand quadrant which indicates a strengthening and expanding economy.  As you can see, most of the developed world is in this space.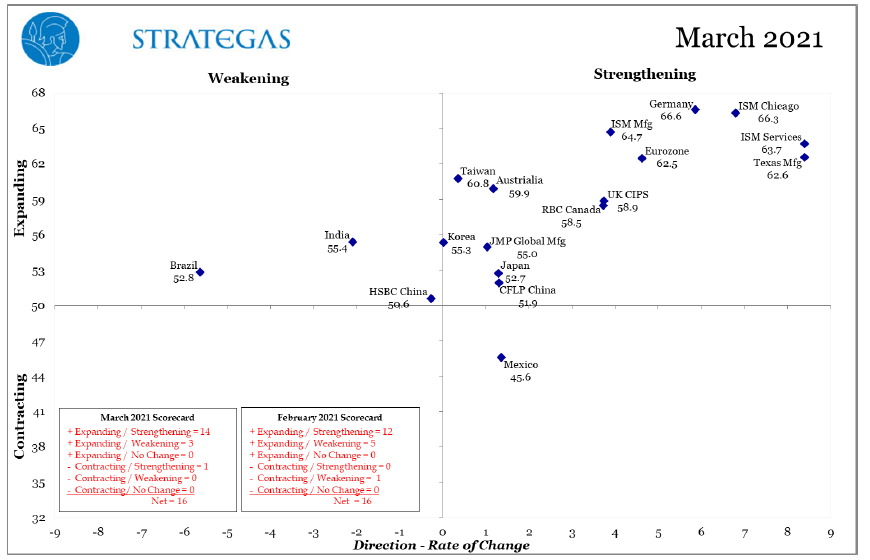 Now, a reading of 64.7 may not mean much to the average person, but for economists and nerds like us, this was a big deal as we have not seen a mark this high since 1983!  And to put things into perspective even more, the index plunged as low as 41.5 in April of last year. 
And while manufacturing is the reading that gets the most attention, the "services" index is actually more important to the United States as it represents the largest part of our economy. Our services reading came in at 63.7 and showed all 18 services industries growing.  We think it is safe to say the recovery is on.
With the U.S. economy exceeding expectations left and right this must be good for the stock market, right? Yes…but we must also remember that markets are discounting machines and likely already reflect this recovery we are experiencing. 
As Deutsche Bank's Chief US and Global Equity Strategist, Binky Chadha, pointed out in a piece last week, "recent spikes in activity measures from the ISM suggest a flattening out or peaking of activity in the coming months.  And after accelerations higher, these moderations in economic activity have typically been accompanied by modest declines in the stock market."
We are not saying the stock market is going to dive into another bear market, but after surges in activity like this it pays to be vigilant and cautious as we could experience some choppiness up ahead if expectations do not match reality.
With all that said, it is difficult not to be bullish given the encouraging economic data and record amount of stimulus starting to slosh around in the economy.  In fact, Jamie Dimon, Chairman and CEO of JP Morgan Chase, noted in his annual letter to shareholders last week that he sees "an economic boom that could easily run into 2023." Meanwhile, Goldman Sachs recently updated their GDP growth forecast to 8% in 2021.  We'll see if this happens, but if it does it would be the first year since 1951 the U.S. has reached GDP growth of that level.
Vaccines
Perhaps more powerful than any amount of easy monetary policy or government stimulus is getting the population vaccinated.  Getting people comfortable to be out and about again is arguably the #1 factor driving the economy forward.  As simple as it may seem, getting vaccines in arms has been no easy feat but we have made significant strides in the last few months. 
According to the CDC Covid Data Tracker, almost 34% of the U.S. population has received at least one dose and nearly 20% is fully vaccinated.  The pace of vaccinations has also increased substantially with healthcare workers administering an average of 3.1M doses a day, up from about 1M a day near the end of January.  With all U.S. adults eligible to receive a vaccine starting on April 19th, most of the population could be immune by the summer which would make this summer much more enjoyable than the last.
Given all the optimism in the air, we take this time to commend all the healthcare workers who have been working so hard to distribute the vaccines.  We know it has been hectic out there, but you are playing a huge role in getting us back to normal.  Although we are not done yet, just know your hard work is greatly appreciated. 
Have a great week and continue to stay positive.
Sincerely,