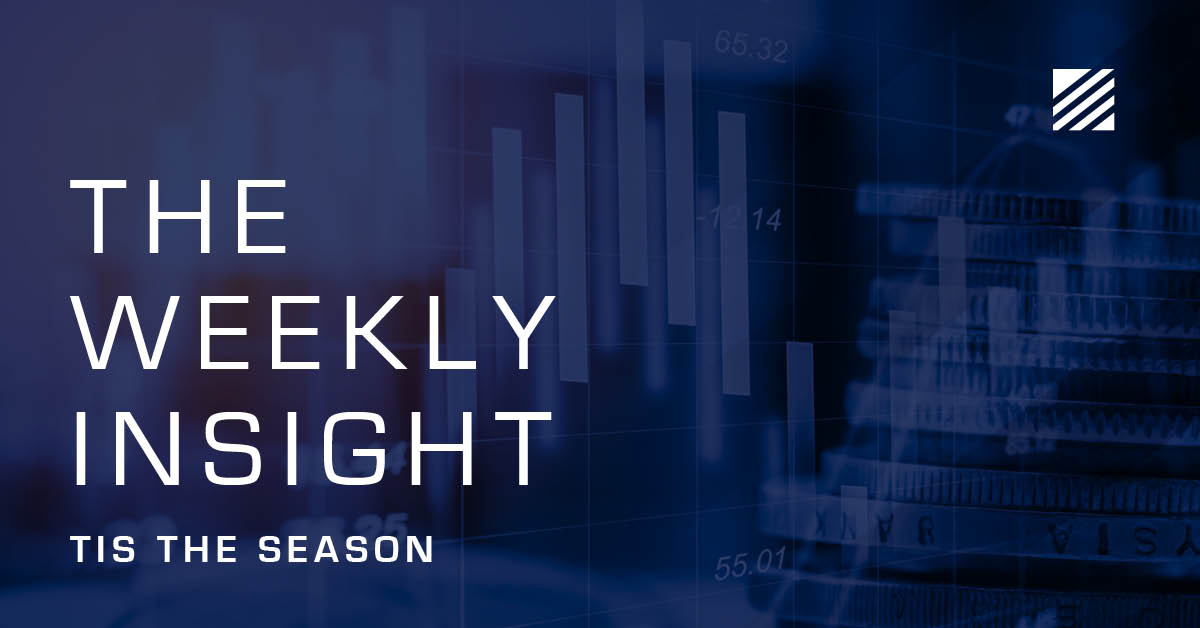 We said it last week and we will reiterate it this week: we like boring! And last week delivered that again for the market. Good earnings reports, solid economic data, decent growth in the market and portfolios. We cannot let the lack of volatility lull us to sleep (the lessons from 2020 are still too fresh!), but we can enjoy it while it lasts.
We are going to take a few minutes at the front end of this memo to provide updates on a few key portfolio holdings. But next week will be a much more detailed rundown of our core portfolios as you are going to see significant trading in accounts once the markets reopen after the President's Day holiday. It is rebalancing time, and we are excited to walk you through where we are going next.
The main focus of this week's memo, instead, is going to be on Tax Season. It is upon us, and with all the new programs and tax law changes that were implemented to deal with COVID, we thought it might be helpful to provide a primer as you prepare to settle up with Uncle Sam.
International and Energy Outperform Last Week
You have heard us talk for some time now about our focus on international and energy positions in the portfolios. Both, we believe, are primed to take advantage of the economic recovery and weakening dollar 2021 is starting to deliver. Last week provided some evidence to this theory.
As we mentioned, the broader markets had a good week last week with the S&P 500 up 1.28%. Our Insight models all performed at or above that level due, largely, to our exposure to these two areas.
Two of our key international positions – EEM and WCMRX – both over performed significantly with EEM up 2.77% and WCMRX up 3.48%. EEM is an interesting position to highlight as it is our first exposure to emerging markets in the models since 2013. That period (2013 – 2020) was particularly difficult for emerging market portfolios. On January 1, 2013, EEM was trading for $44.22. We bought it our portfolios in November for $47.80 meaning the position was up just 8.14% over a period of nearly 8 years. It closed Friday (3 months after our purchase) at $57.80 or up 20.92%.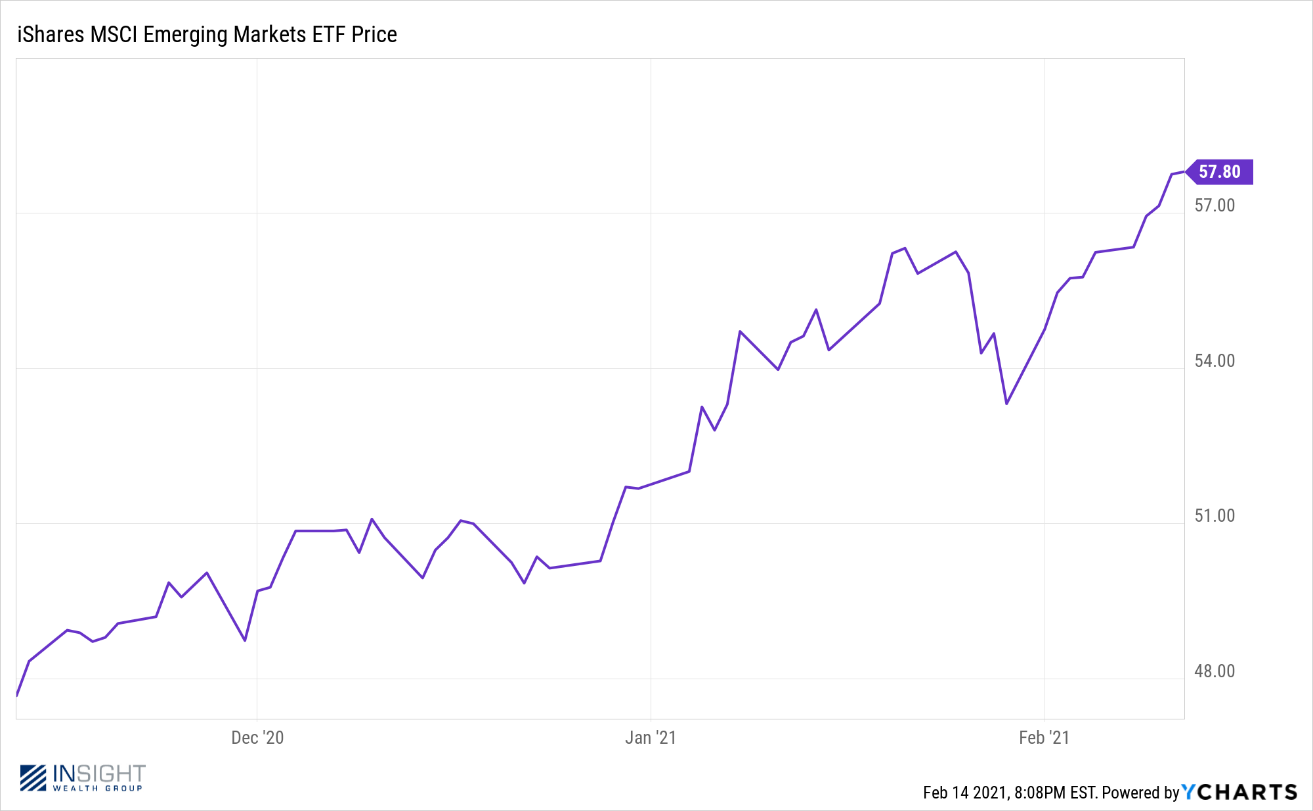 Past performance is not indicative of future results.
Energy had a similar week. Both gas and oil prices saw a spike this week as the industry begins to understand what the Biden Administrations proposed production restrictions will mean, and the nation deals with a cold snap much worse than we have seen in recent years. That drove our MLP positions – NTG and MLPDX – up 3.49% and 3.68% respectively.  Both are up substantively since the election on November 3rd.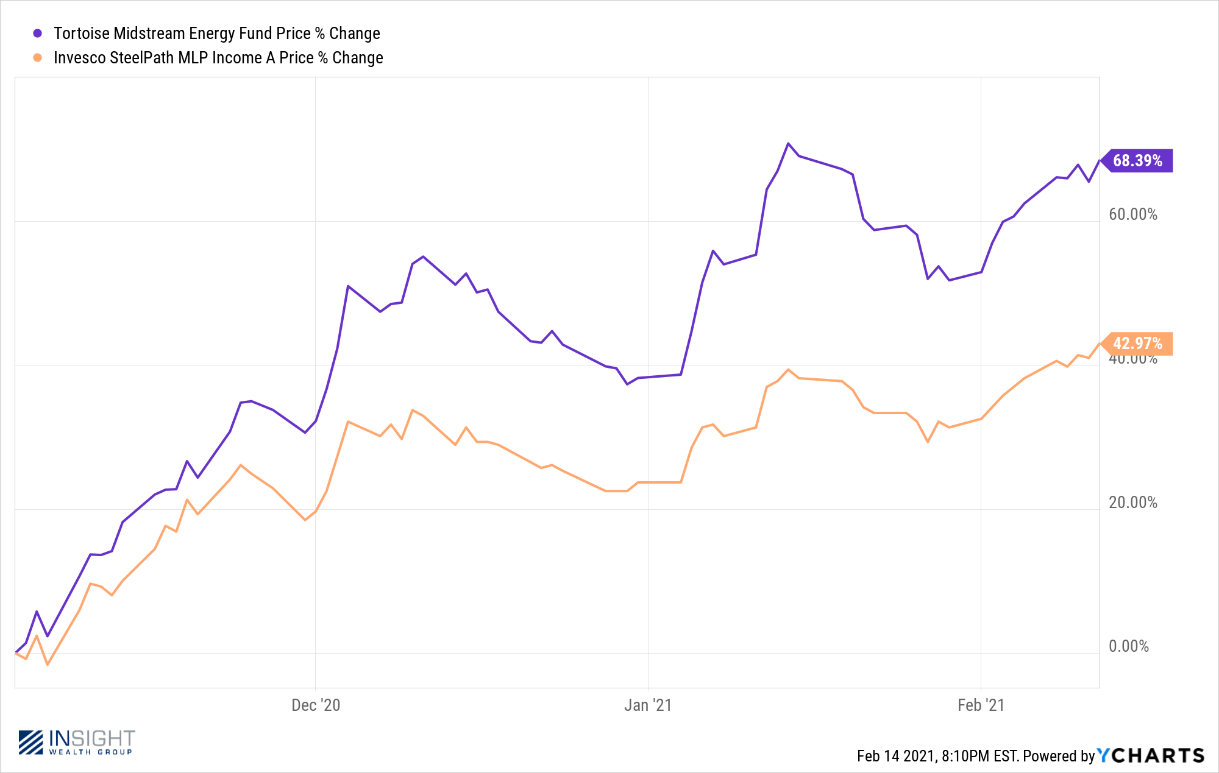 Past performance is not indicative of future results.
The big story for our clients this week in energy, however, was the performance of Brian Boyle's longtime position in Birchcliff Energy. We have often said in these pages that the underperformance in Birchcliff was not a function of the company's financial health, but instead was driven by the underperformance of natural gas as a commodity. That came roaring to the forefront this week.
Birchcliff announced their Q4 earnings on Wednesday and it was a very good report. They produced positive earnings above expectations and continued their guidance that the company should have $130 – $150 million in free cash flow for 2021. They are intending to use this cash to maintain production levels while also aggressively paying down debt, further solidifying their balance sheet. 
The market liked this report – but the news that came out just a few hours later provided a big boost. Two of Birchcliff's competitors in the Montney Shale (Arc Resources and Seven Generations) announced a merger. As the headline in Reuters said "Montney shale patch merger shines light on Canada's premier play". Simply put, at a time when the U.S. government is looking to limit drilling in the states, the Montney is looking better and better. This merger leaves Birchcliff (behind the new Arc/Seven merger) as one of the two or three biggest players in the space. And, more importantly, as one of the producers with the most solid balance sheets. The market took notice, and the position was up over 32% for the week and is now up nearly 81% year to date.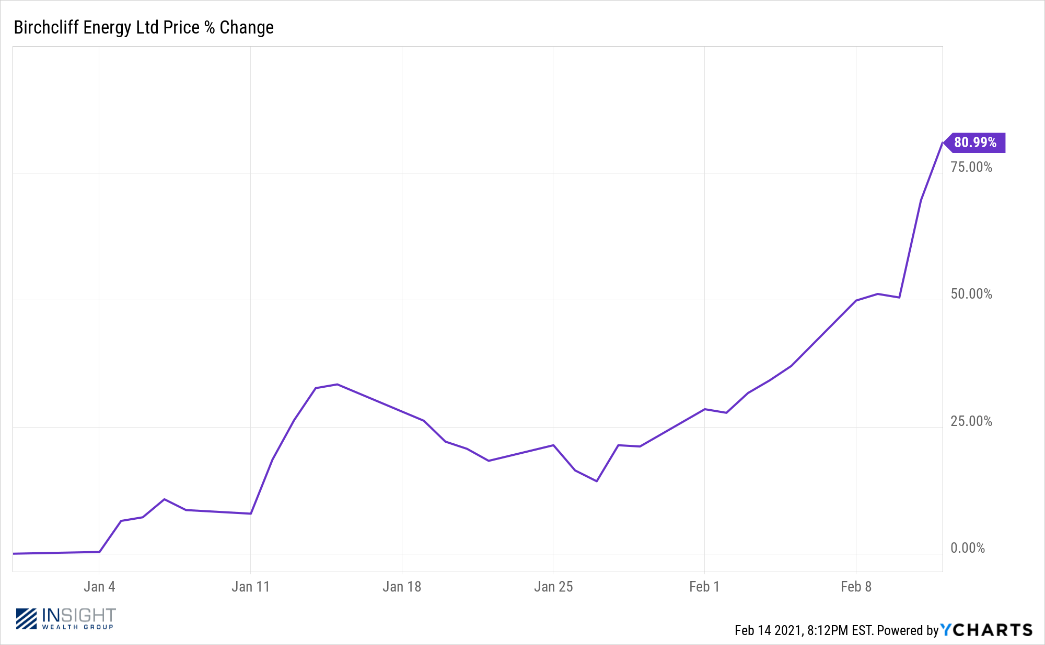 Past performance is not indicative of future results.
Tax Time!
Tax season officially opened on Friday as the IRS will now begin accepting 2020 income tax filings. While we are sure all of you have already filed your taxes (ha!), we thought this would be a good time to address some of the key questions, misconceptions and concerns people have as everyone starts to prepare their returns.
We let our colleague Scott Manhart of Insight CPA go through the comments we received from clients last week about tax filing questions for 2020. His comments are below.
2019 Return Problems
Before we look at 2020 tax filings, it is worth addressing a concern we have seen from several clients relating to their 2019 taxes. As we all know, COVID made a mess of everything. The IRS was not immune. In their effort to have people work from home, and with the delay in the 2019 tax filing deadline, the work piled up at the IRS. It is our understanding there are still 1,000,000 unprocessed "paper filed" tax returns from the 2019 tax season sitting at IRS centers across the nation.
Because of this, we are seeing some clients getting automated notices saying that they filed their taxes late and assessing penalties for late payment. While the client knows this is not true – and the IRS would if they opened the mail! – anytime you get a notice from the IRS it can be stress inducing. If you have received one of these notices, we would highly recommend talking to your tax advisor who can help you respond to the IRS to ensure the mistakes are rectified.
Unemployment Fraud
One of the big issues being raised out of the 2020 COVID stimulus is the amount of people who took advantage of the very loose unemployment rules to receive fraudulent benefits. Scammers have been filing unemployment claims on real taxpayer's social security numbers while having the benefit checks sent elsewhere.
If you receive a notice of taxes due on unemployment claims you did not make, this can be a real nightmare to work through. It is imperative you work directly with a CPA or tax advisor to provide the evidence to the IRS that the unemployment claim was fraudulent and the income not taxable to you. Given the backup of communications at the IRS, this could be a time-consuming process and it will help to have a professional on board.
Out-of-State Tax Filings
Many people took advantage of the "work from home" environment that resulted from COVID to pack up and take their work to a more enjoyable locale. We had clients who headed to the mountains, or the shore, or the lakefront. It was a great way to take advantage of the crazy circumstances.
However, if you chose to take your work out of state, you may find yourself required to file income tax returns in the state which you made your temporary home. If this was something you took advantage of in 2020, make sure you touch base with your tax advisor to make sure you understand the rules.
Charitable Donations
The 2017 Tax Cut and Jobs bill changed the filing strategy for many taxpayers. Many, who used to itemize their deductions, now find themselves taking the larger standard deduction. One of the problems with this strategy is that it made it substantially less advantageous to make charitable contributions.
The CARES Act of 2020 made a slight, temporary, adjustment to this rule. For 2020, taxpayers who file using the standard deduction can also deduct up to $300 in charitable contributions. Make sure you take advantage of that this year you made charitable contributions.
PPP Loans
We have addressed this in these pages in the past, but it is worth addressing one more time. There was a long, drawn out legislative battle on the deductibility of PPP loan proceeds. There was some question about whether business owners would have to pay tax on the loans.
This was finally addressed in the December stimulus bill. PPP loan payments – both first round and second round – are not includable in income as cancellation of debt and all expenses paid with those proceeds are deductible. 
RMDs
As our clients who are over age 72 know, Required Minimum Distributions (RMDs) were suspended for 2020 in the CARES Act. You were still allowed to take distributions from your retirement accounts, the distributions were not required last year. While this is probably obvious, we thought it necessary to point out this was only a 2020 option. In tax year 2021, anyone over age 72 who has qualified retirement accounts will once again be required to take an RMD.
---
We will take a much deeper dive next week into our portfolios and our current positioning as we head into the spring. In the meantime, we hope you are staying warm and healthy. Please do not hesitate to let us know if there is anything we can do to help!
Sincerely,