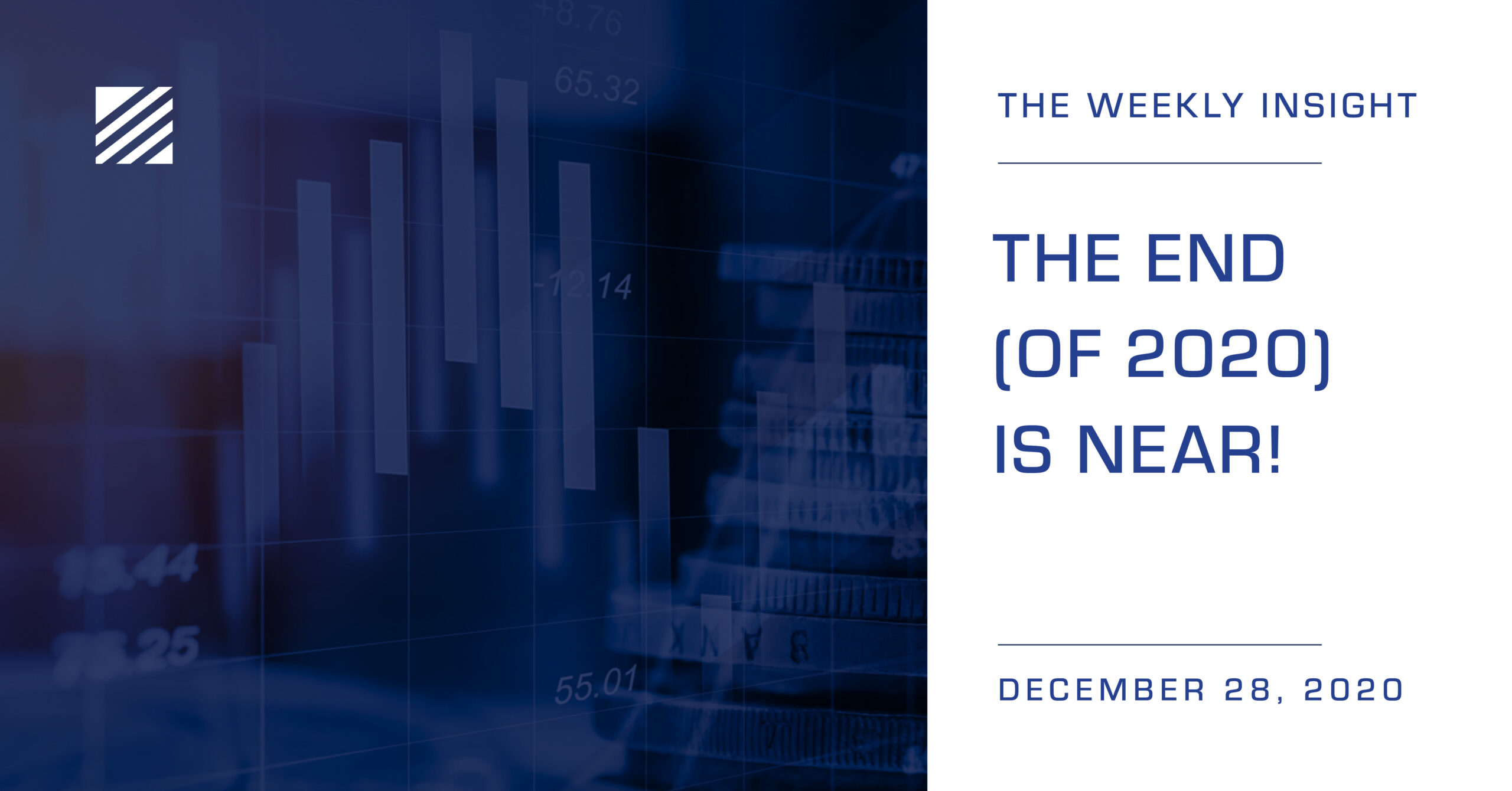 There was a time, not too long ago, when these memos came quarterly instead of weekly. And traditionally we put a lot of effort into our "Year-End Wrap-Up". One year, which we believed was a particularly eventful year, we used the memo to go month-by-month through all the major events of the year. If only we knew what was coming!
In a way, 2020 would be a great year to do that again. Just think of the emotional rollercoaster we have all been on. An ecstatic start to the year, the looming pandemic, shutdowns, race riots, the second wave of the pandemic, natural disasters, etc., etc., etc. 2020 has seen it all. But as much as it would be great "content" to walk through all the things which have happened, we are not sure we really want to abuse ourselves by writing about it or abuse you by making you read it.
So, instead, we are going to use this last memo of 2020 to…well…move on. Because in the end, we all must keep putting one foot in front of the other. And you – our very valued clients – have shown us just how important that is this year. You could have panicked. You could have freaked out. But you did not. You kept your head down and kept plugging. We are going to keep plugging, too.
Finally Finished Business – Stimulus Bill
We wrote and rewrote last week's memo because more and more news kept coming out about the stimulus bill Congress was preparing. In the end, we decided to move forward as there was no way to know when a bill was going to be finalized. Of course, it was finalized just a few short hours later.
The bill passed both houses of Congress on Monday evening and was largely what we had expected. $600 in stimulus checks to qualifying adults and children, a new PPP program, extended unemployment benefits, etc. Republicans lost out on liability protection and Democrats lost out on state and local government support. But, in the end, it was a solid bill and we expected it to be signed into law quickly.
And then the political dance began. When we initially drafted this memo over the weekend, we discussed President Trump's newfound opposition to the bill and the consequences of it sitting unsigned and potentially vetoed. While we were confident there would eventually be a bill, the result of ending unemployment coverage for millions was going to have an impact on the market.
Then, last night at roughly 7:00pm, the White House announced the President had signed the bill sending much needed aide around the nation. We are doubtful a follow-on bill – providing the extra $1,400 per person the President requested – will be delivered. There is limited support among the GOP for such a measure. 
In the end, this solves a problem that has been sitting unanswered in Washington for far too long. The previous bill expired in late July, and the Trump administration has been holding support like unemployment coverage together with duct tape and baling wire. Congress finally did its job; the President did his. And we would expect the market will respond favorably.
One More Election
We said at the beginning of this memo we were excited about moving on. Sadly, 2020 has one last gift for us: the Georgia Senate Runoffs on January 5th. Hopefully, that's the last time we have to talk electoral politics for a while!
The truth is these races are incredibly close. While the Republican candidates currently lead in both races, the margins are slim at best.


Source: www.RealClearPolitics.com
Interestingly, the betting data for the races is much different.  Gamblers are currently giving the Republicans a significant margin for success.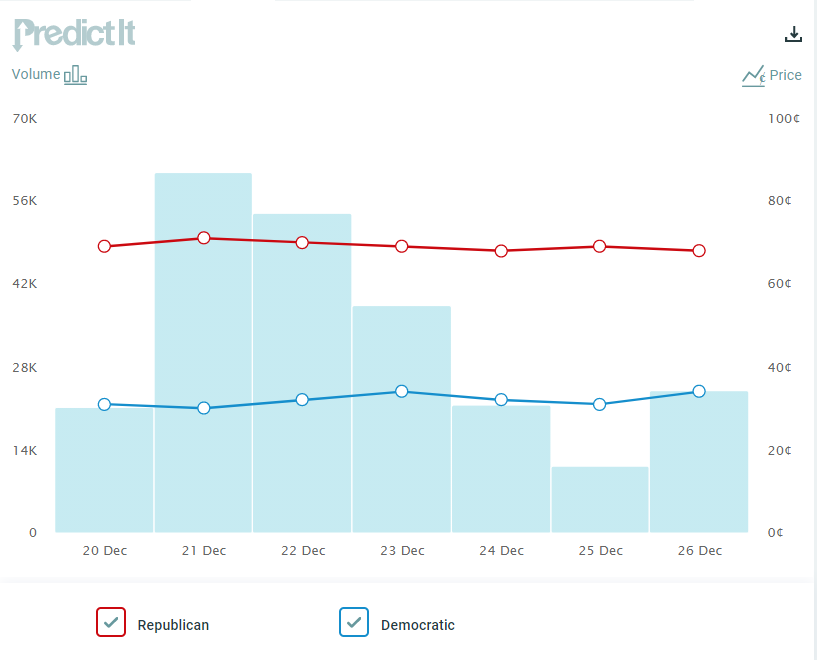 Source: www.PredictIt.org
Who is right? Good question. We will find out on January 5th (unless we don't, and it goes to another recount!). Our bigger concern is what happens after the results are known. As we have already stated a few times in these pages, we are less concerned about a raft of progressive policy actions (i.e., tax increases) as it seems ending the filibuster is a no-go in the Senate. Without that, even if they hold the majority, Democrats will need 60 votes to pass legislation.
So, if the GOP wins at least one of the two seats, expect the market to react positively. Markets love a gridlocked Congress.
If the Democrats win both seats, there will likely be some volatility in the market for a few days or weeks after the election as market makers try to better understand what the results will mean. Even then, we do not see it as a result that could crater markets – but it could make to a rocky start to the year.
Year-End Trading
We have cleaned up most of our year-end projects. The last bit will be any trading necessary to finish harvesting losses for tax purposes. If you have significant gains in your portfolio, expect to see trading confirmations come through by the end of this week as we look to minimize your tax exposure for the year.
If you have any other year-end issues, please do not hesitate to call us this week. At this point we have reached the "best efforts" period with TD Ameritrade where they cannot promise us transactions (other than trading) will be accomplished by the end of the year. We will push for you and do the best we can.
Thank you!
We have been through a ride together over the last twelve months. In the end, portfolios have weathered the storm. But there were times throughout the year where it would have been easy to just run away from the markets and hide. As we mentioned above, our clients did not do that.
Your faith and confidence in Insight means the world to us. But we also know that confidence comes with responsibility: the responsibility to work hard on your behalf and communicate like crazy so you know what decisions we are making and why.
Serving you and your families is an honor. We never, ever forget that Insight Wealth Group is here not because of us, but because of you. As we look back on the year, you are the thing for which we are grateful.
We look forward every single day to proving you have made a good decision. We won't be perfect – but we are excited to tear into 2021 with you. We think it is going to be a heck of a year.
Happy New Year!  We made it!
Sincerely,