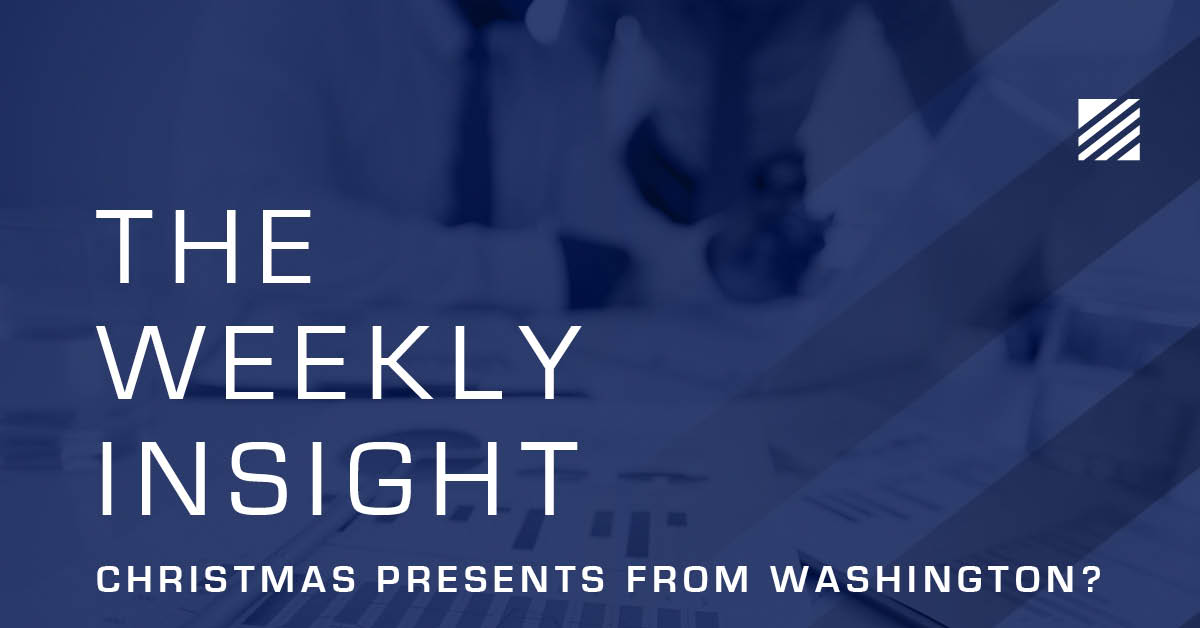 We have said it before and we will say it many, many more times. Washington and Wall Street are inextricably linked. It is one of the more frustrating parts of the job. At times, we feel like this memo becomes more about political analysis than it is about economic analysis. But the decisions made in Washington have so much impact on what happens in the market, it is important to be able to understand both – especially in a time like this when the success of the economy is tied directly to a virus – the response to which is dictated by public policy.
So, while we are excited about the potential for 2021 to be a year about the fundamentals of the market, the last few weeks of 2020 are going to be dominated by the politics of COVID. The good news is this conversation is about over. There is nothing Congress cares more about, sadly, than getting home for the holidays. So, we have a high level of confidence they will get their work done early this week and adjourn until the next Congress is seated in January.
Stimulus Negotiations and a Continuing Resolution
Editor's Note: The discussion in Congress on the next round of COVID stimulus is evolving rapidly, and it seems there may be a vote on this bill today. This memo was drafted over the weekend and may not be entirely accurate as to the final package included in the bill. We will provide additional context in our next memo relating to any changes not represented below.
Last week was dominated by the discussion of the next round of COVID stimulus coming out of Washington. Let us start by saying this: Congress has failed the American people. This is a discussion that should have been completed over four months ago. Since then, we have been relying on a patchwork of programs to try to move the ball forward, and the country has largely succeeded because of the strength of the recovery. 
Frankly, we are quite lucky the impact of the virus has not been worse on the economy. Because for the last four months we have been doing the highwire act without a net. Nancy Pelosi and Mitch McConnell have instead spent their time sticking their respective tongues out at each other and saying "nanny-nanny-boo-boo". Beyond that, not much has gotten done.
We can, however, count on one thing to get Congress' act together: the end of funding for the Federal Government. The current continuing resolution ran out on Friday night at 11:59PM. Without a new funding bill, federal workers do not get paid. Not a good look around Christmas time and the politicians certainly do not want to look like Scrooge.
So, on Friday afternoon, a short-term continuing resolution was passed that funds the government through the end of the day today. Thankfully, members of Congress on both sides of the aisle have been forceful in saying they will not vote for a long-term funding bill until COVID stimulus is figured out. We have confidence that means we will have a resolution before Christmas to both issues (potentially today).
Until the bill is finally passed, we cannot be certain what will be in it. That said, the information we have today leads us to expect the following from the next round of stimulus:
Total stimulus of $900 billion.

Second round of stimulus checks to qualifying adults and dependents for roughly $600-$700.

Extension of federal unemployment checks of $300/week (down from the previous $600/week) for 10 – 16 weeks.

$300 billion in additional funding to the Payroll Protection Program (PPP). While we are not sure yet on the rules of the expanded program, it seems it will be targeting firms that had significant closures or impacted revenue.

Renewed eviction moratorium for renters – at least through January 31, 2021.

$16 billion for additional COVID-19 testing, vaccination distribution, etc.

$92 billion for education and childcare.

No additional funding for state and local governments (the Democrat's big ask).

No liability protection for businesses (the Republican's big ask).
We have said many times before that we know we cannot permanently fund this economy on "funny money".  And as you can see from the chart below, our current deficit situation is worse than many third world countries.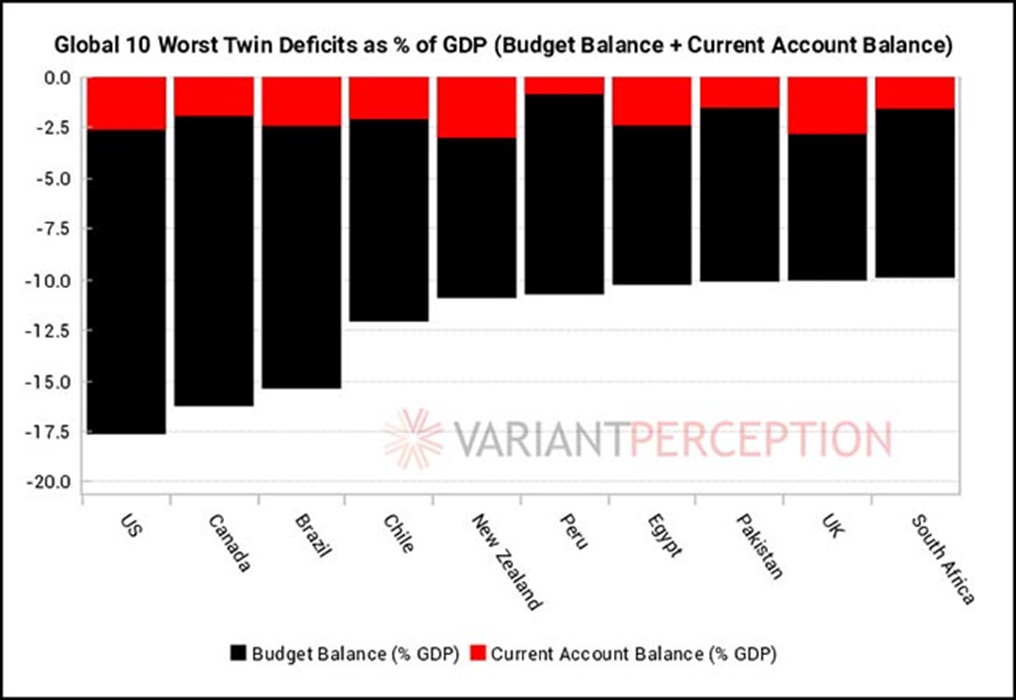 Past performance is not indicative of future results
We are going to have to enter a new phase of fiscal austerity in this country. But it is not going to happen right now. And doing it on the backs of the unemployed and impoverished in this country is not the right approach. This stimulus package is important and will provide the support needed as we move toward getting the country vaccinated.
2021 Opportunities
Hockey great Wayne Gretzky once explained his success by saying he skated not to where the puck was, but instead "where it is going to be". It is a great line, and is one that shows studying the game, combined with experience, can give someone an edge. It is also a bit of an exaggeration. No one can know the future.
The same applies to the markets. We do our best to skate to where we think the puck is going to be. We may not always be correct, but there are ways to mitigate that risk. As we get close to wrapping up the year, we thought we might mention a few areas where we think the puck might be going in 2021. 
COVID Response Leads to a Weakening Dollar
We have already talked about the extreme amount of money being pumped into the economy by Congress and the Fed. That has consequences – one of the largest being the weakening of the U.S. dollar. You can see from the chart below just how much the dollar has weakened since COVID started earlier this year.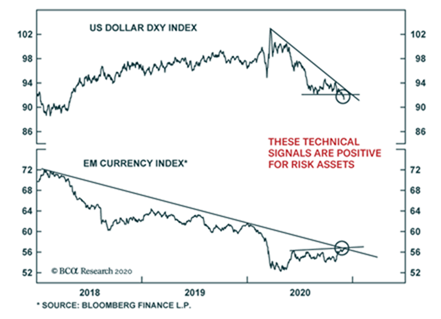 Past performance is not indicative of future results
A weakening dollar has a bad ring to it, especially as an American. We do not like to be seen as weak! And, while it does have a massive impact around the world, it is not particularly bad for us. The impact is outsized because the dollar is the key currency through which the vast majority of financial transactions take place in this world. While we make up slightly more than 10% of world trade, and slightly more than 20% of world GDP, the dollar is used for nearly all currency transactions, most official reserves, and trade invoicing, etc., etc. It may come from our country – but it is truly the world's currency.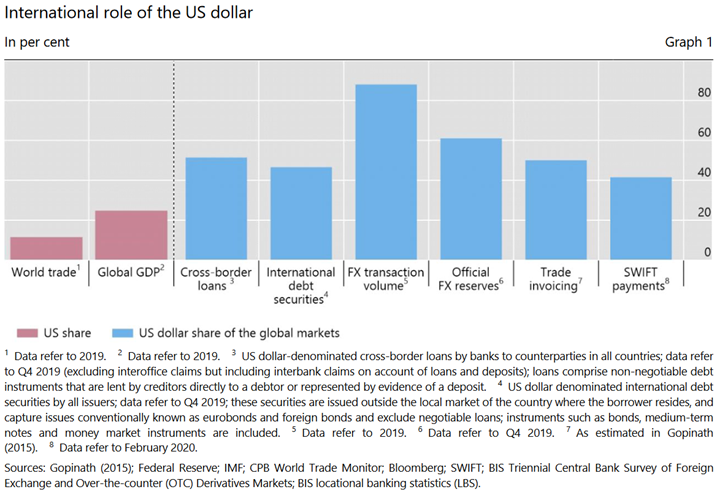 Past performance is not indicative of future results
So, when the dollar weakens, costs for those transactions go down. As costs go down, global growth goes up. As growth goes up, that is typically a very good sign for equity markets – especially those overseas. That is why we have expanded our international holdings since the election and continue to have a significant weight to international and emerging markets in portfolios.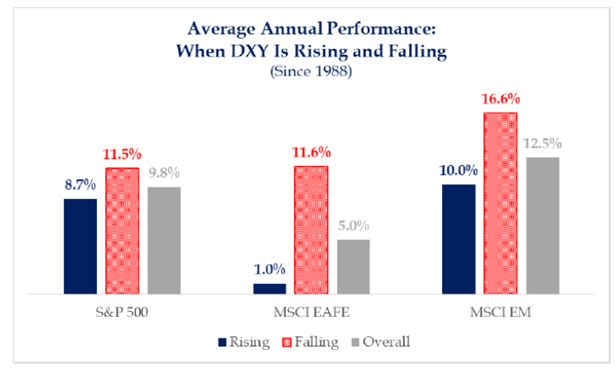 Past performance is not indicative of future results
Energy Outlook
You have heard us say this before: we are bullish on energy in 2021. The case above for a weakening dollar is just another boost to that argument. A weaker dollar has typically meant better commodity pricing. In fact, an article came out just this week titled "How a Weaker Dollar Could Help Fuel a Commodities Boom in 2021". You can find it here.
There is a strong argument to make this will impact energy prices as well. We have noted reports previously from JP Morgan that were anticipating huge oil supply deficits in the U.S. over the next four years. Goldman Sachs joined the chorus a few weeks ago, predicting oil prices hitting $65 in 2021, a 34% increase over the current price.
Right now, there is no asset class still impaired like energy is.  XLE – one of the main energy ETFs – is still down nearly 35% for the year.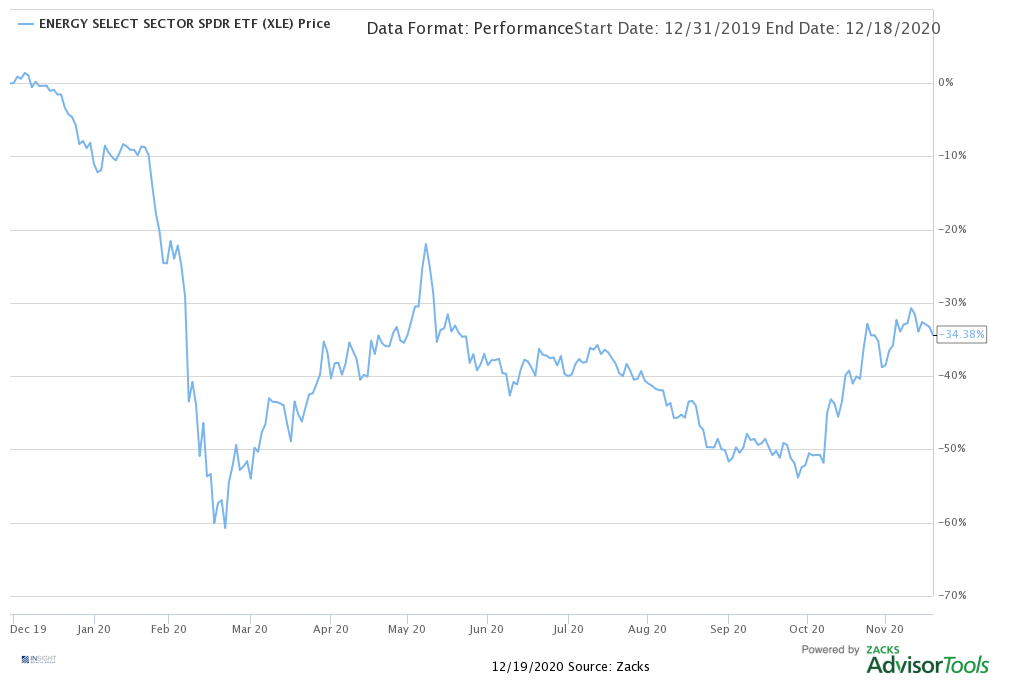 Past performance is not indicative of future results
When we are looking to find where the puck may be going – this is a strong signal for energy. Combined with international equities, we imagine this will be a story we will be discussing a lot in 2021.
Insight Holiday Hours
As the holidays approach, we wanted to give you a quick heads up on our holiday hours over the next few weeks.
Christmas Eve: Markets close at 12:00PM CST; Insight closed at 12:00PM CST

Christmas Day: Markets closed; Insight closed

New Years Eve: Markets open; Insight open

New Years Day: Markets closed; Insight closed
Other than these times, we will be in the office working hard to make sure any year-end issues are managed. If you have any additional year-end planning items to address, please make sure to let your advisor know ASAP.
Happy Holidays!