Editors Note: You should have received an email invitation to our first Insight Holiday Reception coming up on Tuesday, November 30th. Hard copies are in the mail and should be reaching you soon. We hope you will be able to join us! RSVPs are due by this Friday, November 26th. Now let's get back to your regularly scheduled programing…
---
We spent a good bit of time over the last few weeks talking about the generally positive economic situation we are seeing right now. If we were in a "normal," non-COVID impacted world, we would be dancing in the streets right now.
Households have more cash in their savings accounts than they have had in a long, long time.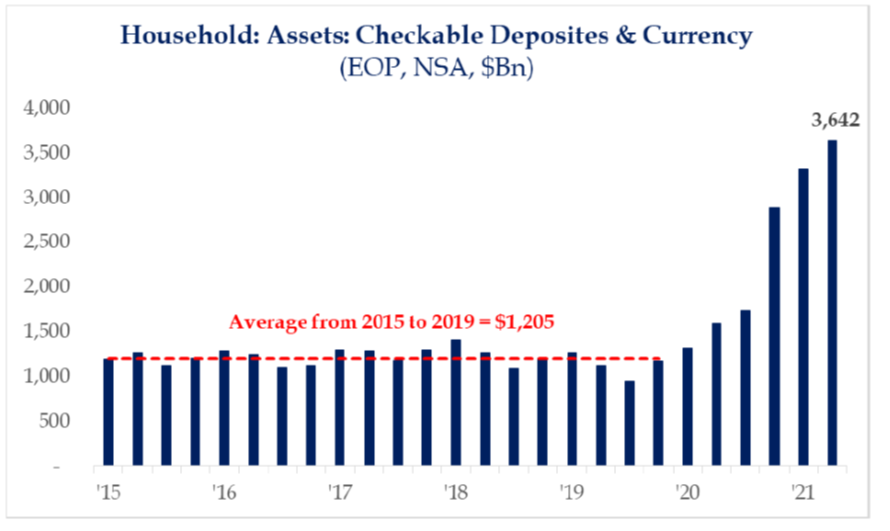 Not only do they have cash in their bank account, but they have also done an effective job of reducing their debt service expenses.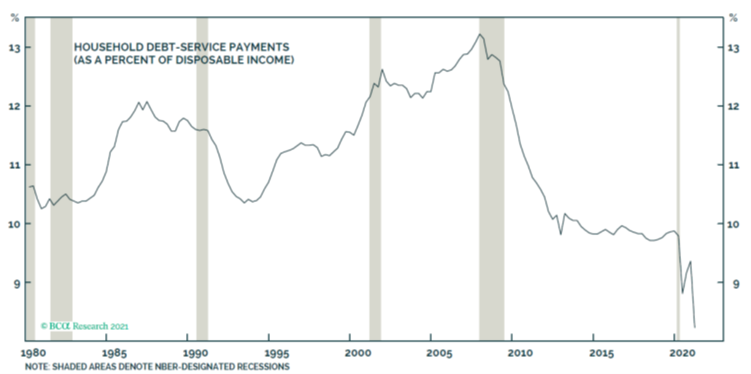 We all know that a huge part of the economic situation is tied directly to consumer spending. And consumers are spending. Retail sales are soaring.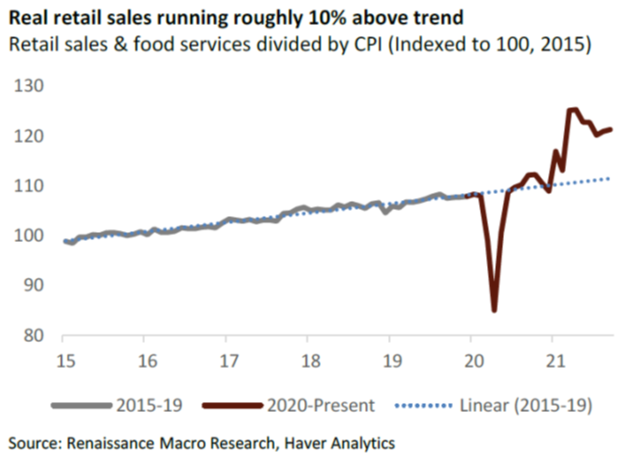 And during all of this, S&P 500 earnings look great and are expected to continue their upward trend into next year. In fact, we are ahead of the pre-COVID earnings trend.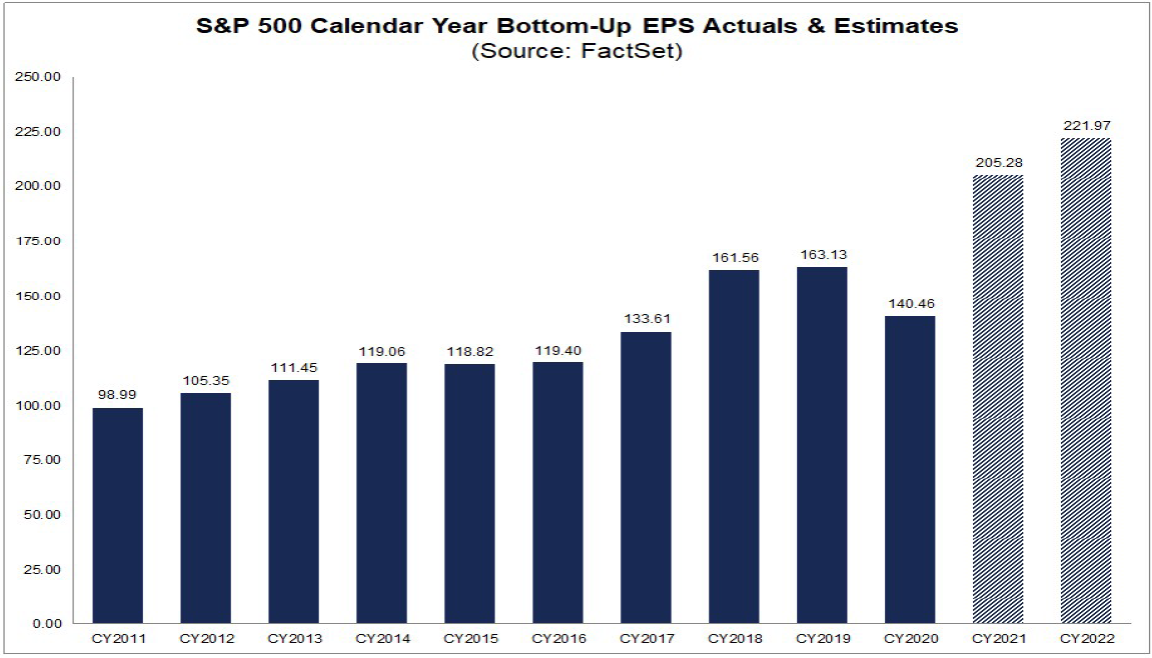 As our friends at Taiber Kosmala have shared over the last few months, we continue to be in the "Goldilocks" period of robust growth and dovish interest rate policy. The problem? The tail risks today are growing.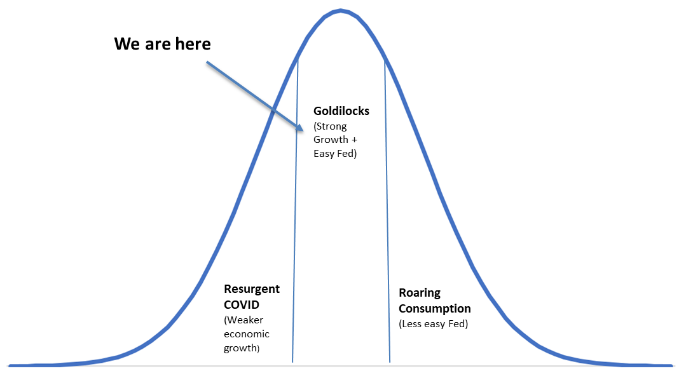 Inflation
There are really two tail risks: a weakening economy (likely caused by resurgent COVID) and roaring consumption causing significant inflation. COVID is not gone yet – but it is also not our primary concern today. Inflation – and the action that may cause the Federal Reserve to take – is. How the Fed proceeds in the coming weeks and months is the biggest risk to the current bull market.
We have talked extensively since the summer about transitory vs. permanent inflation. For months, Chairman Powell and the Fed have been insistent that the inflation we are experiencing is transitory. And there is some data to back that up. The chart below plots out the month over month change in CPI in three categories: energy, "reopening" (transitory) components of inflation, and "non-reopening" (permanent) components of inflation.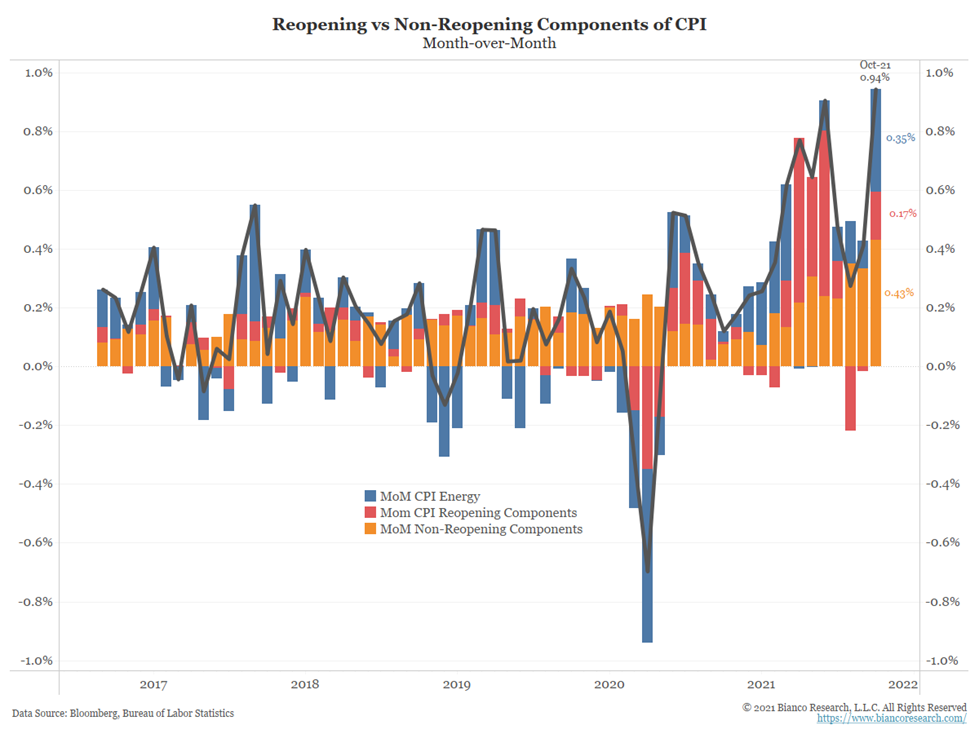 As you can see, when it comes to the "reopening" components of inflation (the red bars), Powell has been right. There was a huge reopening spike during the summer and since that time it has fallen off significantly. The problem? The non-reopening and energy sectors (especially energy) have been spiking. This is where the risk of permanent inflation starts to rear its ugly head.
The market is taking notice. There was a significant shift in sentiment last month when investors were asked whether they thought inflation was transitory. The majority still thinks so, but it is a shrinking pool.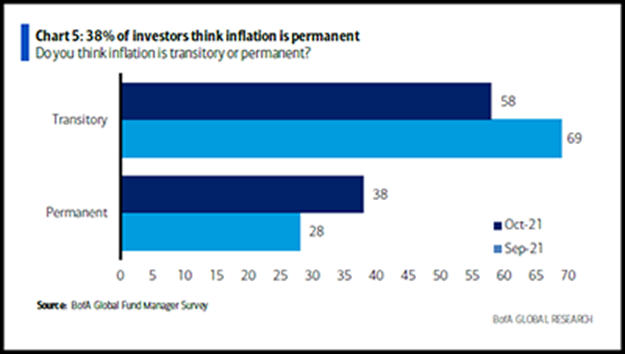 Policy Trumped Politics This Week
We once had a conversation with a Fed economist which has since shaped our perception of how the Fed acts. We'll paraphrase it here: "If things worked as they should, Fed policy should drive market perceptions. These days market perceptions drive Fed policy."
That quote was from the time immediately following the Great Financial Crisis of 2008 – 2009, but it still weighs on us when we see charts like the one above talking about investors' perceptions of inflation.
For all the criticisms we may have about Fed policy, we must be clear about this: they have done an excellent job during the COVID crisis of giving the market clear communication about what they intend to do and why. That has been true about their process of tapering bond purchases. And it is true about their plans for interest rates.
But we were fearful about politics rearing its ugly head at the Fed. In fact, this memo looked much different when it was originally written on Sunday vs. what you are getting today. In it, we expressed our fears about how the Biden Administration would respond to the end of Fed Chairman Powell's term (coming up in January).
Biden was not shy about interviewing Fed Governor Lael Brainard over the last few weeks. That led to a lot of market speculation that Powell was not long for the job. Our problem was not so much with a change at the Fed – we think Brainard and Powell are pretty in sync on Fed policy – it was instead the uncertainty this was causing with the market. Markets hate uncertainty.
And the cynic in us thought there was an obvious reason for this little dance: blaming someone else for the inflation issues we are seeing today.
We must give credit where it is due. Biden did not blink. Early this morning he announced the renomination of Chairman Powell and expressed his confidence in his leadership. Powell's confirmation process should be fairly painless. And now the market knows what to expect in the coming months and years. It made for a rather good Monday morning.
Just a reminder that our offices will be closed on Thursday for the Thanksgiving holiday. We hope you have a wonderful time celebrating with your family. We hope you find your bellies – and your hearts – full as we give thanks.
Sincerely,