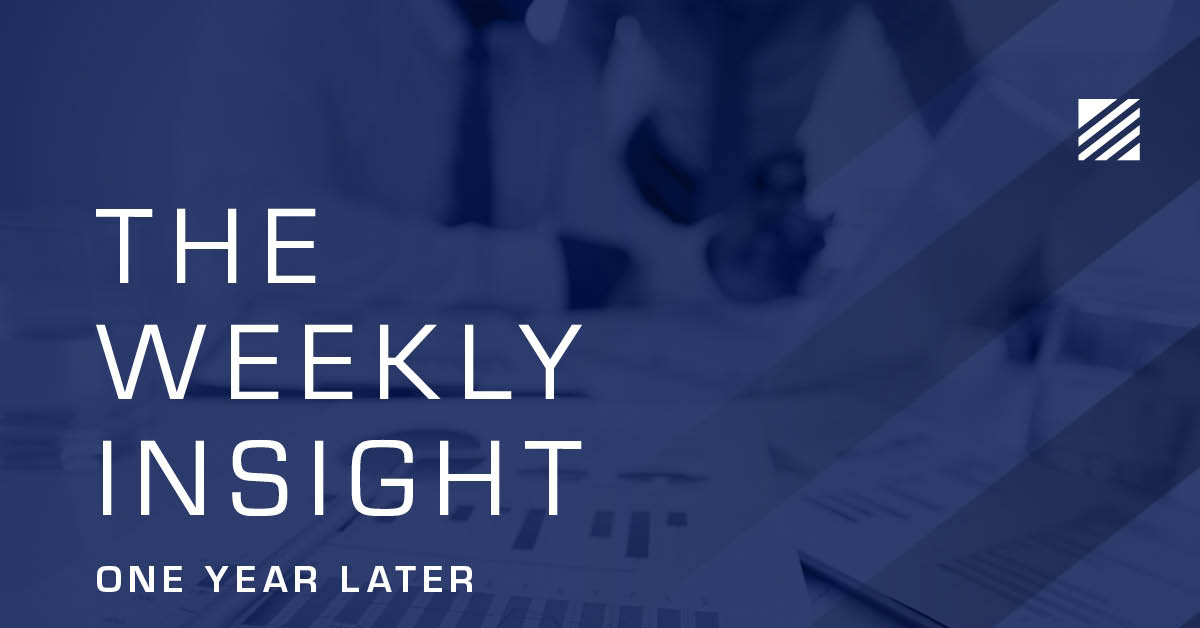 Last week marked one year since COVID-19 was declared a pandemic. On March 11, 2020, the head of the WHO stepped to a podium and stated what was by then clear to most of the world: COVID-19 was raging out of control. By then it was becoming obvious just how severe the situation would be. The stock market was already down 19% by then (on its way to being down 34% just 12 days later).
It was a year ago today – Sunday, March 15th – when it seemed the panic really set in. We remember that day well around here, because it started celebrating the 8-year anniversary of Insight Wealth Group. But that afternoon – around 3:00pm – the news alerts started coming in. Schools closing. Businesses shutting down. Travel being restricted. It was a remarkable – and eerie – day.
We went back and looked at the memo we sent to you the next morning. It is stunning to look at some of the news we discussed. For example, Treasury Secretary Mnuchin came out over the weekend and said he "didn't think this panic would move the U.S. economy into a recession". Ha! And the Fed came out at the same time and said they were estimating a 5% drop in GDP for Q2 2020. That number ended up being at 31.7% drop. And everyone – us included – was under the assumption that, while we would have a bump in the road, GDP for the year would end up being positive. It shrunk by 3.5%.
The changes that took place over the next few weeks were dramatic and damaging to the economy. The charts below show just a few examples of how drastic the collapse was in areas like air travel, car sales, restaurant usage and movie ticket sales. Our economy changed more quickly than any other time in history. And the damage was – and continues to be – extensive.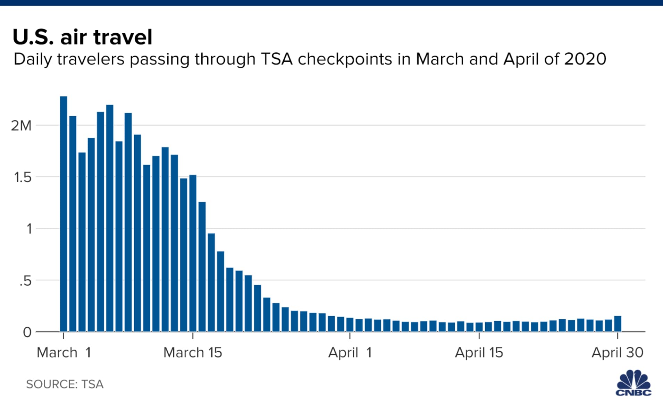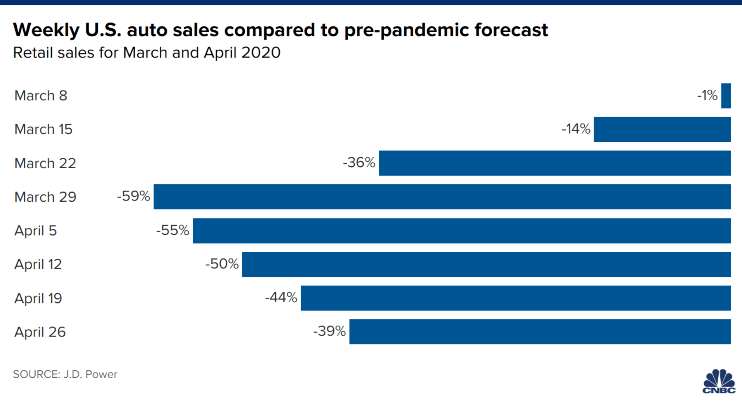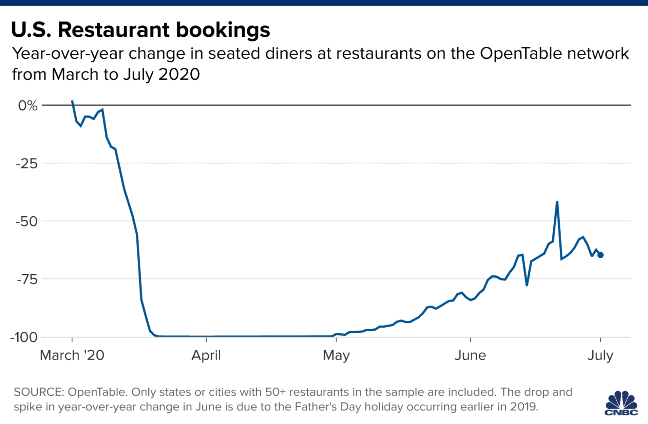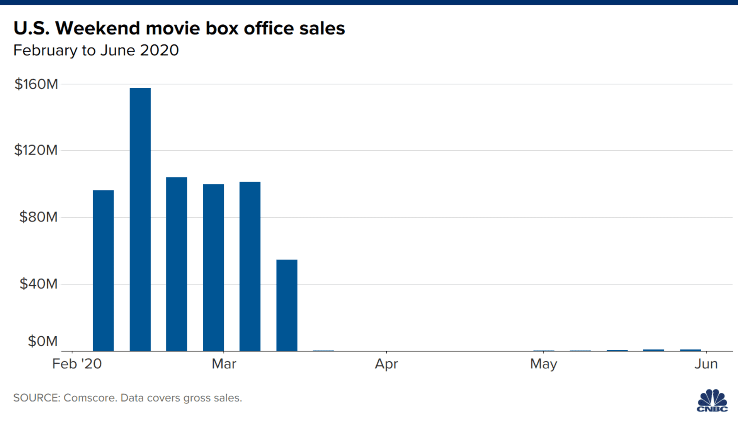 We all have those big national moments we will remember for the rest of our lives. Kennedy's assassination, the Challenger explosion, 9/11, etc. Those were horrible moments in time. This, however, has been a horrible year. And it has changed our nation and the world in innumerable – and many yet unknown – ways.
This anniversary is also a chance to honor and remember those we have lost during this tragic period. So many of you have been affected directly by this horrible disease – either through the loss of a loved one, the struggles of a business, or even just the stress of juggling a household in the "work at home/school at home world". Our prayers are with you all.
But, as with any tragedy, the story does not end there. And the tale of the COVID recovery will also be one discussed for years to come. We have addressed repeatedly the historic drive for a COVID-19 vaccine. It is one of the most amazing accomplishments in the history of modern medicine. And the distribution of the vaccines – along with falling case counts – makes this one-year anniversary a time when we can look to the future with some hope. The world will never be "the same" but it certainly seems we're charging headlong into some familiar version of "normal".
The Conclusion of Earnings Season
One of the reasons we are most optimistic today is the success the market has seen this earnings season. 99% of S&P 500 companies have reported earnings and the results have been quite positive. We have discussed in past issues the proclivity of "analysts" to underestimate earnings and for earnings to "surprise" to the upside. Even given that normal process, the earnings for Q4 were a much bigger surprise than normal. 79% of companies have surprised to the upside which is the third-highest percentage of companies reporting positive surprises since this statistic has been tracked.
These surprising earnings have led to a better (or lower) P/E valuation. P/E valuation can come down two ways – either stock prices go down or earnings go up. Today earnings are going up faster than prices. What had been a forward P/E ratio of 22.5 two months ago is now coming in at 21.1. This means– despite the new all-time highs in the market – stocks are cheaper today than they were 2 months ago.
The next two quarters of earnings reports are going to be some of the most important – and interesting – reports we have seen in a long time. Yes, they are important because they will be a gauge of our recovery and the reopening of the economy. But they will also be a significant challenge for the analysts as they will be suggesting year-over-year performance compared to the economic decline during the worst of COVID.
Today, the expectation is Q1 2021 earnings will be up 21.8% over Q12020. If that holds, it would be the highest year-over-year earnings growth reported since Q3 2018. But what is even more interesting is that this number has gone up throughout the quarter. On December 31st, the expectation for Q1 2021 was growth of 15.7%. Typically, that number drops throughout the quarter. For it to rise nearly 39% over the last 2.5 months is nearly unheard of.
It should be no surprise if you have been reading these pages that the two areas of the market leading the surge in expectations are energy and financials. Both are significant holdings across our portfolios.
Energy, in particular, was expected to have a 61.2% decline in year-over-year earnings for Q1. That number has been revised to a 21.8% decline. The rising price of oil – and expectations for more increases – combined with more consumer traffic have provided a significant shot in the arm for the industry.
Stimulus Bill…And Another Change in Tax Filing
The Democrats passed their $1.9 trillion Stimulus Bill last week in a vote that saw no Republicans in the House or Senate support the legislation. Until now, stimulus funding has been a largely bi-partisan (if messy) process. It seems that honeymoon is over.
There is plenty to love and hate in the bill. In the end, however, the market just wanted to know there would be sufficient cash flowing out of Washington and back into the economy. That hurdle has been cleared. 
There is one notable issue with the bill for those who have already filed their taxes. The bill changed the taxation of the first $10,200 of unemployment benefits received in 2020. For those with less than $150,000 in income, these unemployment benefits will now be tax free. So, if you have already filed your taxes for 2020, and you received unemployment benefits while making less than $150,000, you should reach out to your tax advisor to see about submitting an amended filing.
THANK YOU!
As you might have inferred from our earlier comments of the panic setting in on the 8th anniversary of Insight becoming a firm – today is our 9th birthday. These 9 years have flown by. Every year on this day we are reminded of the faith and trust you have put in this team. We have been through good times and bad times together. But, through it all, we hope you know it is the absolute honor of our lives to have the opportunity to serve you. Thank you!
Sincerely,