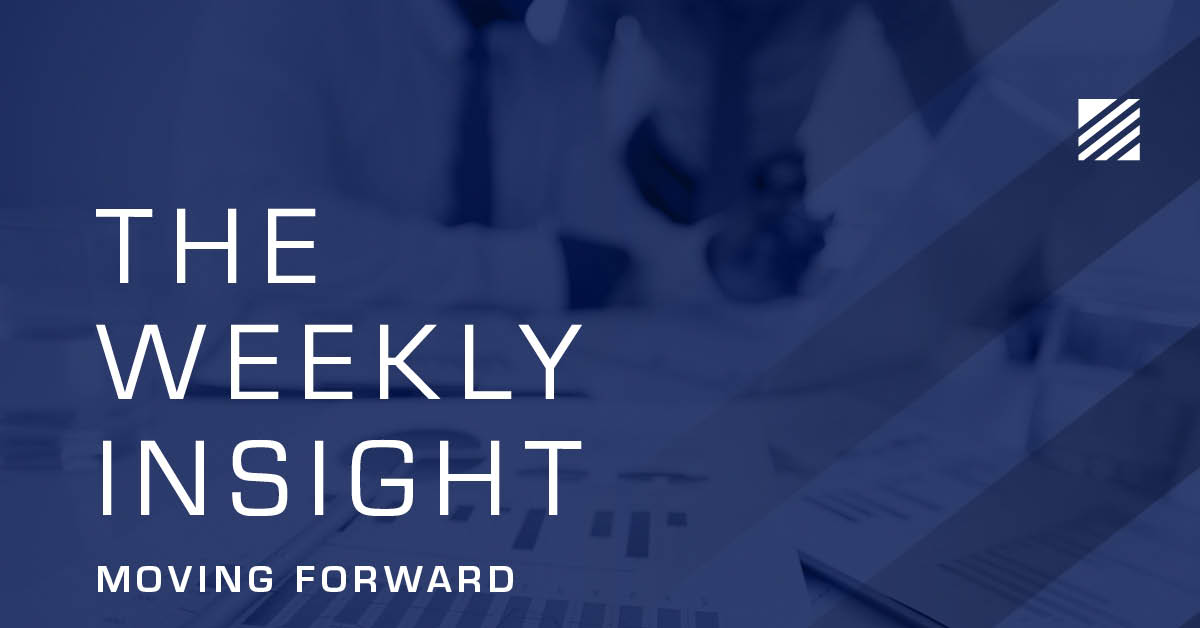 There is undoubtedly a subset of folks reading this memo today who were frustrated by the election. There is another subset who are excited. But as we have talked to clients this week, the overwhelming response has been some version of the phrase from a universal Disney favorite: Hakuna Matata. As the song says, it means "no worries…".  We are not quite ready to add "…for the rest of your days", but the election outcome was certainly not a bad thing for the economy and the market over the next several months.
So, this week we're going to tie a bow on the election (hopefully to never discuss again!), talk through what policy measures may be impacted by it, and then dig back into the fundamentals of the market so you can see what's been going on while voting has conquered the airwaves.  Next week we are going to get back to some fantastically boring stuff like year end tax planning and portfolio strategies.  Please know there is no sarcasm at all when we say we cannot wait!
But before we dive in this week, we also want to take a brief moment out to say a hearty congratulations to Insight financial advisor Ben Morrow.  Ben passed his CFP qualification test this week!!  The CFP process is a grueling year-long commitment which has taken Ben away from his family as he's dedicated dozens of hours a week to receiving what is one of the most distinguished certifications in our industry.  Way to go Ben!  And thank you to his lovely wife Erin and their four wonderful kids for supporting him through this process!
Now onto the week.
Pfizer Vaccine?
You've likely all heard the news by now, but Pfizer CEO Albert Bourla was on CNBC this morning and announced the results of their recent vaccine trials.  Per Bourla, they are getting roughly 90% efficacy out of the vaccine which well exceeds the standards for any accepted vaccine.  For example, the flu vaccine has a roughly 40% efficacy rate.
This was fantastic news to the stock market this morning as it is a sign that we may be rounding the corner a bit.  Dow futures were up over 5% on the news and – as of the writing of this memo – markets are up roughly 3%. 
It should be noted we are at the start – not the finish – of this race.  The FDA announced this morning they would have to see 2 months of follow-up data from participants in the trial before they would be able to provide an "emergency use authorization", so that puts us into the New Year before they can even begin to climb the hill of production and distribution.  Additionally, the vaccine requires a cycle of two shots – one month apart – before immunity is built up.  As such, we are still looking to middle of next year before we can expect the country to be truly past this virus.  And all of that hinges on the rest of the vaccine trials.
Undoubtedly good news.  But we should expect a few hiccups along the way.  This does, however, give us additional optimism for the market and the economy.  We are on the way.
If You Want to Govern, You Have to Win
If we were forced to publicly acknowledge a political philosophy at Insight, it would be pretty simple:  keep government out of the way so the markets can decide the winners and losers.  To be honest, we know it is not that easy.  Government plays an important role in keeping things fair and protecting those who cannot help themselves.  In the end it becomes a delicate dance – much like Goldilocks – trying to get just the right amount of government intervention without having too much.
We will never be in that nirvana.  And yet, the economy will continue to find ways to motor through both good times and bad.  Strangely enough, though, this might just have been a Goldilocks election.
The American people wanted change, but they were also very cautious about not going too far.  One of the things we love about the work the Founding Fathers did is they made it incredibly hard to radically alter the status quo.  To do so, you must win elections, across multiple years, across multiple jurisdictions.  The people – by giving the White House to the Democrats – but also by leaving the Senate in the hands of the GOP and narrowing the partisan divide in the House, basically said "not so fast" to some of the more radical policies being proposed in this election.
Admittedly, this election is not over yet.  Right now, the Senate is 50 GOP/48 Dem with the two Georgia races being forced to runoff.  We have a hard time believing both Republican candidates will lose Georgia, so we are willing to assume GOP control at this point.  But…you know what they say about "assuming" …
What's Off the Table?
Divided government means having to drive policy down the middle of the road.  Without that, consensus is impossible to find.  As such, many of the more aggressive Democrat policies which were proposed when the thought of a "Blue Wave" was in everyone's mind, are no longer going to be likely outcomes in the next two years.
Of the biggest concern to our clients was the Biden tax plan.  The plan, as written, was intended to be the largest tax increase since the Johnson tax increases to fund the Great Society programs.  The plan would have impacted nearly everyone:  big business, small business, and individual taxpayers of nearly every stripe.  While we did not expect the tax bill to become a priority until late 2021, we had serious concerns about what it would mean for the economic recovery.  It is now unlikely to succeed.
The Green New Deal is also dead in the water with a GOP Senate.  We have no doubt the environment will continue to be a Biden priority (see below on what he can do without a vote) but killing the fossil fuel industry is not going to happen.  That continues to be reinforcement for our long-term outlook on energy.  We thought it worked even in a Blue Wave.  Today it looks even better.
The addition of a "public option" to Obama Care, essentially single-payer healthcare lite, is also not likely to proceed.  While I think we can all agree reforms are necessary to our healthcare system, this plan would have been incredibly expensive and still left many issues unresolved. 
It seems Biden will have to rethink the shape of his cabinet in this environment.  There was plenty of talk in the days leading up to the election of Bernie Sanders joining the cabinet as Labor Secretary and Elizabeth Warren joining as Treasury Secretary.  Both are less likely with GOP control of the Senate.  Biden will have to work with his Senate colleagues to get people through and that will mean compromises.
And, finally, the filibuster lives!  One of our biggest fears was this fundamental check on normalcy in Washington would be blown up in a one-sided election.  We have bought ourselves a few more years.  Hopefully, Washington will grow up and understand just how important the 60-vote threshold is to ensure neither side gets too far ahead of their skis.
What's On the Table?
It is easy to think of the candidates – or the President and President-Elect – in strictly partisan terms.  But, as with each of us, we are all defined by our experiences.  And President-Elect Biden's lifetime experience is largely as a bi-partisan dealmaker in the United States Senate.  Additionally, he has a proven track record during the Obama Administration of being willing and able to work with Senate Majority Leader Mitch McConnell to get to solutions.  It is our understanding they are friends.  We hope that holds.
Friends or not, the first item on everyone's agenda is another stimulus package to help folks struggling through the COVID-19 pandemic.  It is needed.  And Washington has drug its feet on this for far too long.
The divided government we are facing means we are less likely to see the Pelosi $3 trillion package pass.  But we do think having the election behind us has cleared some of the minefields for both sides to get together and get something done.  How big a package is still to be determined, as is President Trump's willingness to go along between now and Inauguration Day.  If a solution is not identified by then, expect it to be the first thing that comes out of Congress as soon as President-Elect Biden is sworn in.
We would also suggest we are about to be in store for another round of "Executive Order Bingo".  Given the difficult road in a divided Congress, we would expect President-Elect Biden to use his executive powers to reverse some of the Trump executive orders he sees as so egregious.  That would include things like re-entering the Paris Climate Accord, restarting talks with Iran on de-nuclearization, re-instating Deferred Action for Childhood Arrivals, etc.  All will speak to his base, but none are particularly concerning to portfolios.
Finally, for those of you with Boyle portfolios, one of the questions we have been hearing a lot is what does this mean for our investment in Fannie Mae & Freddie Mac.  Brian did a nice walkthrough of the current situation here:  https://www.youtube.com/watch?v=WrPhFI4XLMA&feature=youtu.be .  But the simple answer is this:  all systems go.  We continue to have confidence the Treasury Department and FHFA are going to move quickly and our new Supreme Court Justice and a GOP Senate give us confidence the path can continue.  The position is up nicely this morning which seems to be a positive indication.
Progress Continues Despite the Politics
What seems like ages ago, we provided you an early look into Q3 earnings season.  Since that time, the election has dominated the airwaves.  But earnings results continue to come in…and they continue to look good.  As one of our favorite analysts – FactSet – pointed out on Friday:
"At this point in time, the percentage of S&P 500 companies beating EPS estimates for the third quarter and the magnitude of the earnings beats are at or near record levels.  As a result, the index is reporting higher earnings for the third quarter today, relative to the end of last week, and relative to the end of the quarter."
What was a good report at the beginning of the quarter is an even better report today.  86% of companies are beating their expectations which would be a record-setting number if it sticks.  The only sectors underperforming right now are Real Estate and Utilities – where 67% of companies have beaten expectations.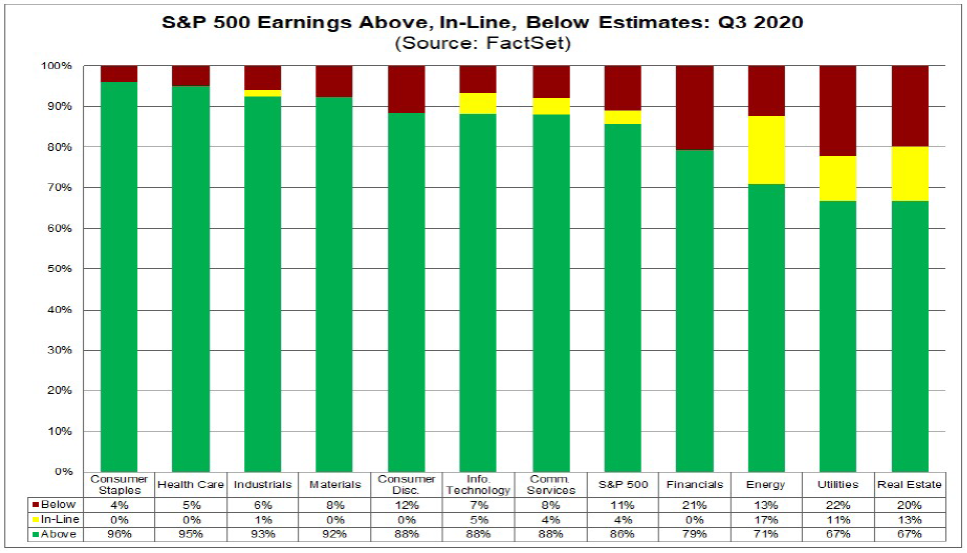 Past performance is not indicative of future results
And finally, valuations continue to look very good considering.  Right now, the 12-month forward earnings number for the S&P500 is 21.6x.  While this continues to be higher than the 5- and 10-year average, given our environment today we believe it is a bullish number.  We expect earnings to continue to rise over the next several quarters, there is no return available in the broader fixed income market, and there is tremendous cash on the sidelines.  Earnings at 21.6 assumes a 4.63% "earnings yield" in equities.  There are very few other places to get a 4.63% yield right now.  5-year A rated corporate bonds today are yielding less than 1%.  It makes the market seem like a steal.
So here we are.  We made it past Election Day.  The world did not end.  A vaccine is on the horizon. There are not riots on the streets.  And the market is in pretty good shape.  Maybe – just maybe – 2021 can put the demons of 2020 to rest!
Sincerely,