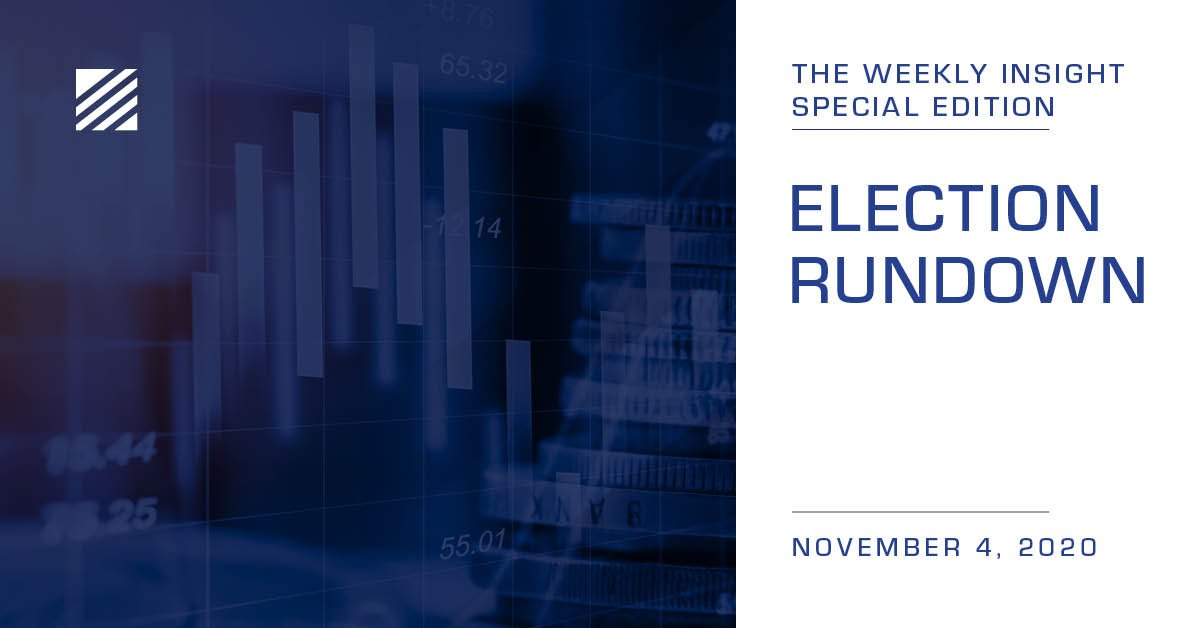 We had grand designs of waking up this morning and providing you with a detailed memo outlining the outcome of the Election, what it meant for the path forward for portfolios, etc., etc. Yeah…not yet. 2020 continues to be the gift that keeps on giving, but we will say this: it looks like we'll avoid the nightmare scenario of a contested election, but we're going to have to be patient to get to a final outcome.
With that in mind, we wanted to lay out a few key points of our thinking right now and will update you as more information becomes available.
Mama's Don't Let Your Babies Grow Up to Be Pollsters…
We wrote you a memo the morning after Election Day in 2016.  We started it with this:
Pundits, pollsters, party insiders and market makers. What do these people all have in common? The easy answer is that they all made the wrong call on the Trump v. Clinton election. The more difficult idea to unpackage is why. 
It was difficult to unpackage. Clearly the models were off and needed to be fixed. One would think that was a focus in polling companies across the world over the last four years. Maybe not. Instead they told us Biden would win handily and the GOP would likely lose the Senate. No matter what the final outcome is, it is clear there was no Blue Wave. There are going to be a lot of pollsters across America looking for a new career path this morning.
A Result Still Matters Most
As we sit here this morning – with the Presidential Election still undecided – we would caution you that the most important thing for the stock market is that we have a result. Red or blue, Trump or Biden, what really matters is we know the winner. 
The rules surrounding counting of ballots allow for some margin of error here. For example, absentee ballots in North Carolina do not need to be delivered until November 12th – 8 days from now! We are not in the halcyon days of votes being counted by 10:00PM on Election Night. But as the next few days go along, and Pennsylvania, Michigan, etc. continue to finalize their count, patience is going to run out. Don't kid yourself, both Biden and Trump have already lined up their legions of lawyers and put them on planes to these states to be ready for a battle royale. If we get there – that's bad for the market. And will remain so until the battle concludes, or we get to December 15th – the day the Electoral College Electors vote.
That said, we do not think we are going to get there. We should have definitive results in Michigan and Wisconsin later today or tomorrow, and it should be enough to get us to a conclusion. 
Most importantly, it seems the stock market agrees. As of this writing, the S&P 500 is up 2.85%. That is not the sign of an ongoing battle.
Partisan Gridlock!! (We are really excited about this…)
In a sense, this was more important in our minds than the Presidential race. You will recall us discussing in memos past what type of government markets most enjoy. There are long-held misconceptions that Party X is better for the market. That simply is not true as you can see from the chart below.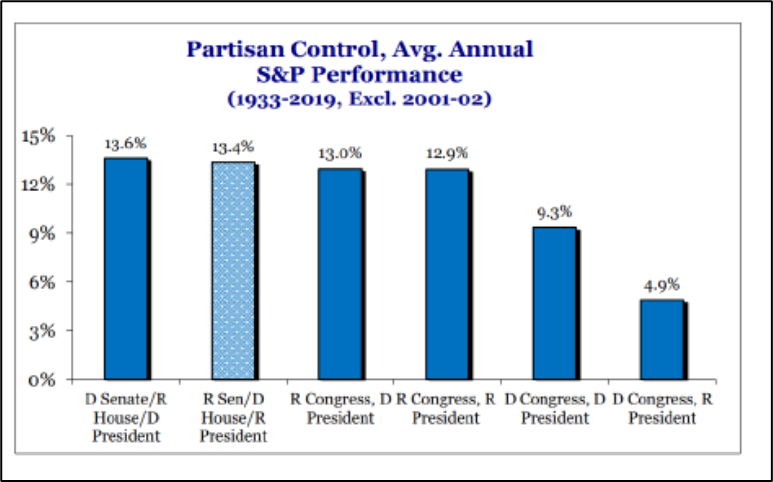 Past performance is not indicative of future results
What the data shows is the best market performance happens when no party has absolute control over the levers of government. Given there was little expectation the House would change control, that meant the GOP needed to be victorious in holding onto control of the Senate.
That was a very tough hill to climb. The GOP had significantly more seats to defend this year (a fluke of the Senate election calendar). More importantly nearly all the "Toss Up States" – as rated right before the election – were controlled by the GOP.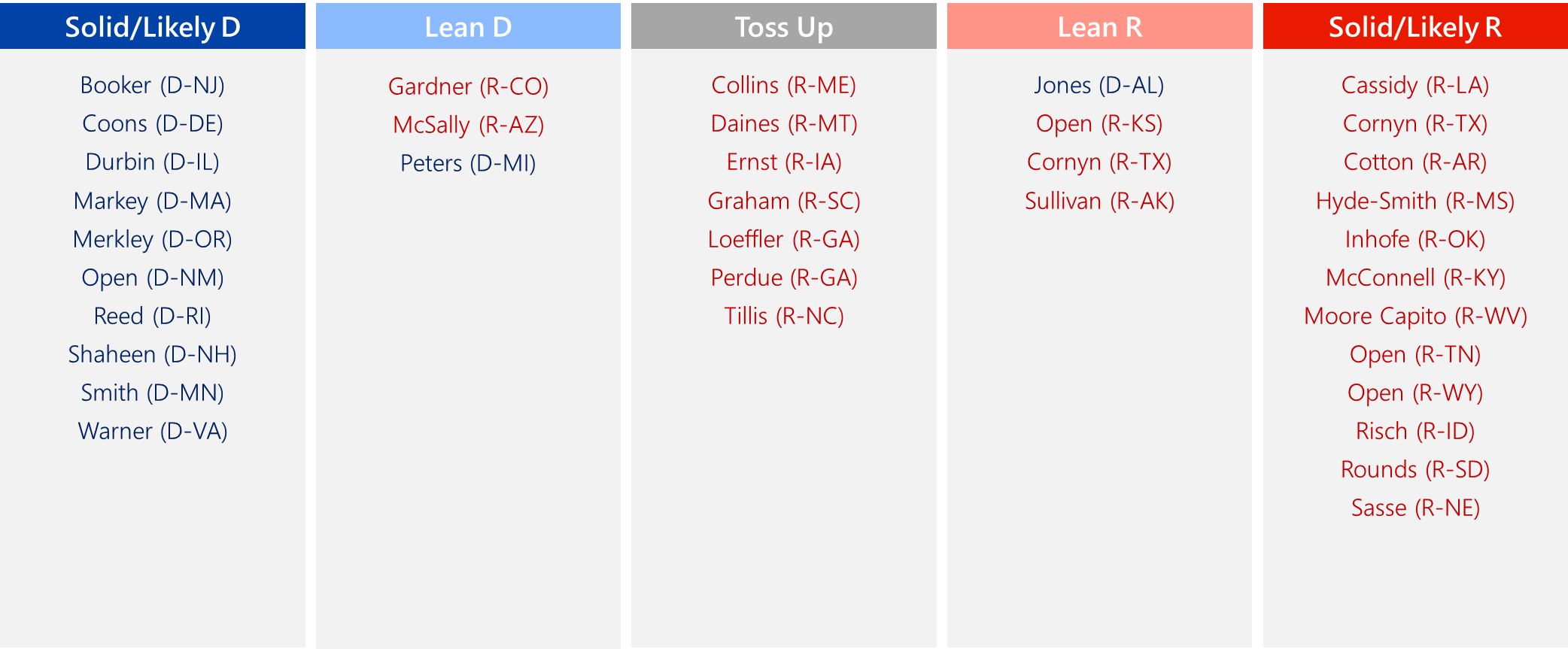 Source:  Cook Political Report
The only chance the Senate GOP had was if President Trump were to outperform his polling. That happened and it seems to be enough of a boost to bring along some Senate victories even if it is not enough for him to maintain the White House. 
As of the time we write this, there are still six Senate seats undecided. In our calculation, we would expect the following:
Perdue holds on to his seat in Georgia. He is currently leading by nearly 200,000 votes with 94% reporting

Tillis holds on in North Carolina. He is currently leading by 100,000 votes with 94% reporting

Sullivan holds on in Alaska. There are still a lot of votes left to count there – but he is currently ahead by 32%
Those three seats get us to a 50/50 tie in the Senate. The GOP would then need to win one of Maine, Michigan or the second Georgia seat which will go to general election in a few months. 
Shockingly, Susan Collins in Maine was one of our projected losers this cycle. With 85% of the vote in, the networks have called the race for Joe Biden and he is leading Trump by 9% in the state. Interestingly enough, the Collins race (same 85% of votes in!) has not been called, but she is leading her Democratic opponent by 8.6%. We are not yet ready to give her the seat – but it looks more and more likely. We also think Kelly Loeffler is very likely to be successful in the second Georgia seat later this year.
What's Next
First, of course, we have got to clean up the mess. Get the votes counted, make sure there are not any irregularities. Right now, it looks like it will be a clean election, but we have seen what 2020 can do and we are not yet prepared to say this is over.
But assuming it is – and that we have divided government – we remain very constructive about the market right now. The next few weeks, though, could still provide some fireworks.
As you know, one of the biggest priorities right now is getting a new stimulus bill passed. Will that be able to happen in the lame duck session? Will Trump sign it if he ends up losing? There are still many unknowns on that issue today, which may cause some additional volatility. But knowing what we know today, we would look at that volatility as an opportunity to go shopping because we think the long-term view is positive.
We will continue to keep you apprised as more things develop and this race finally gets across the finish line. If you have any questions in the meantime, please do not hesitate to give us a call.
Sincerely,