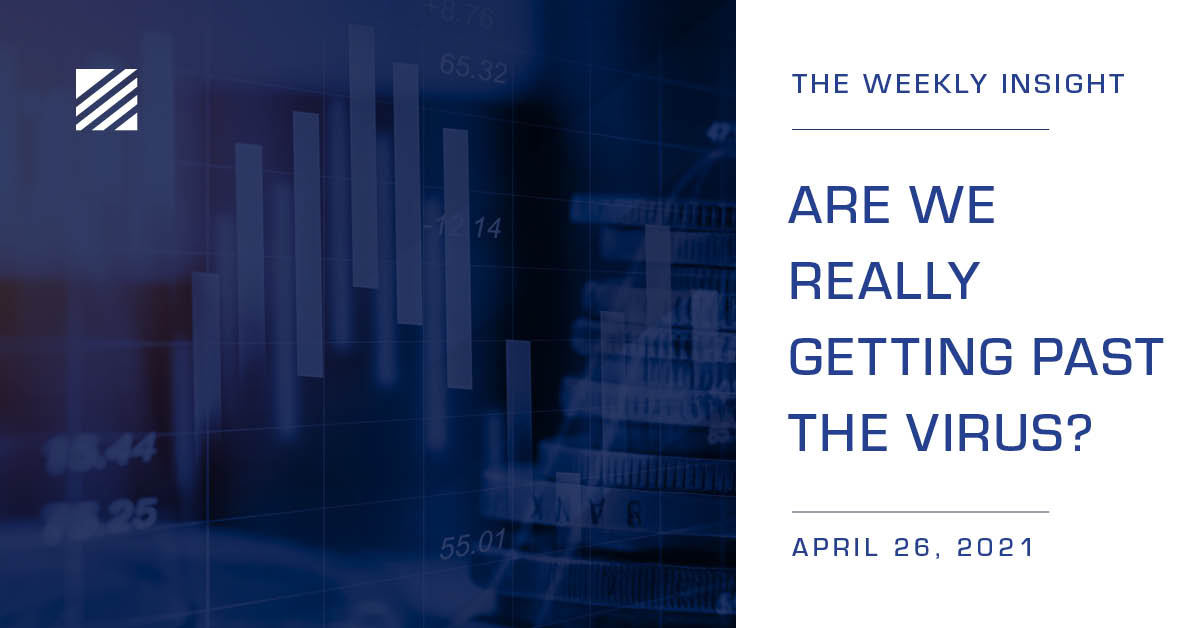 Last week, markets fluttered as investors look for a sense of direction. As we have touched on the last several weeks, overall sentiment in the marketplace remains upbeat. The record amount of stimulus flowing through the economy has driven economic forecasts up and earnings reports are looking strong as the corporate earnings parade starts picking up steam. However, with such high expectations already priced into the market, any shortfall or setback could cause some turbulence up ahead.
What could possibly go wrong? Of all the crazy things that can happen in this world, the most likely culprit is public enemy #1: The Virus. If we have learned anything over the last year it is that one cannot possibly predict the direction of this dreaded infectious disease. As regular readers will recall, for months now we have been stressing the importance of our "three pillars" for success in 2021. We know we are more than okay on government stimulus and low interest rates for the time being. However, what about the road to recovery from COVID-19? Are we really getting past the virus?
Global Outlook
Last week was a week of milestones on the virus front.  Some good and some bad.  The good news came in the form of a vaccination achievement.  President Biden celebrated the U.S. administering 200M shots in his first 100 days of office.  This goal, which Biden doubled in March once it became clear that vaccinations were running in advance of previous benchmarks, is a noteworthy accomplishment showcasing the progress the U.S has made in the last 3 months.  Globally, more than 950M vaccine doses have been administered.
Despite such great progress on the vaccine front, across the globe more people were diagnosed with COVID-19 during the past seven days than any other week since the start of the pandemic.  More than 5.2M new cases, a sobering reminder that the pandemic is far from over. 
While infection rates have largely slowed in wealthier countries due to widespread vaccine distribution, there is already a stark gap in vaccination programs among less developed countries.  India and Brazil in particular, are struggling with surging case counts.  Over the past two months, the outbreak in India has exploded with the country reporting nearly 333,000 new cases on Friday – the most recorded in any country on a single day.  This is a worrisome trend considering the country has the second highest population in the world with nearly 1.4B people.  Recent data estimates that more than 132M Indians have received at least one dose of the vaccine, accounting for less than 10% of the population.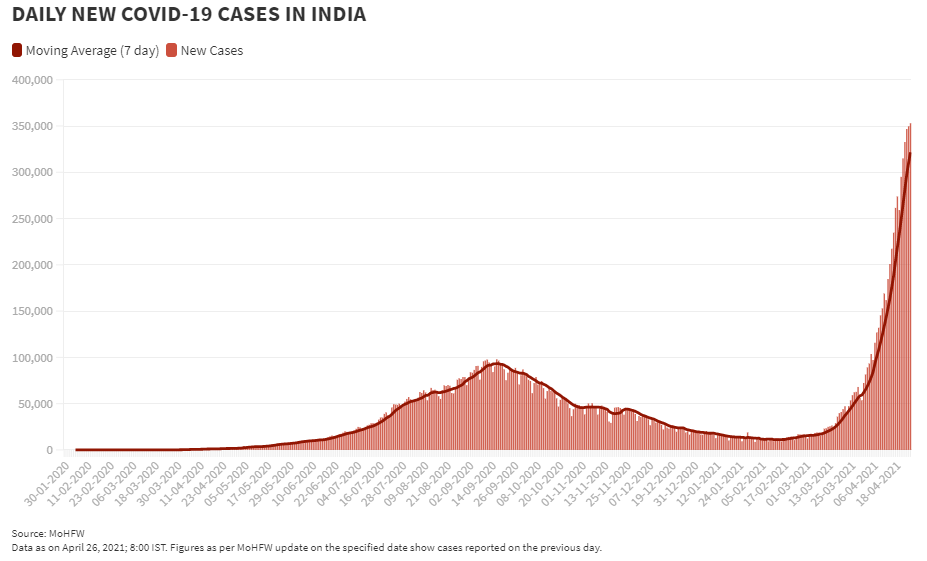 Past performance is not indicative of future results.
After surpassing 3M global deaths due to COVID-19 last week, we are reminded that on a global scale we are not out of the woods yet.
US Outlook and J&J Vaccine
Fortunately, here in the U.S. the situation is a different story.  While we still sadly lead the globe with over 32M confirmed cases, it appears we are at least starting to slow the spread of the virus.  Ever since vaccinations really started ramping up in January, new infections have dropped substantially.  The 7-day daily average of new reported cases is currently around 62,000.  While this number is still far too high, we are in a much better position than we were back in early January when daily infections were around 260,000.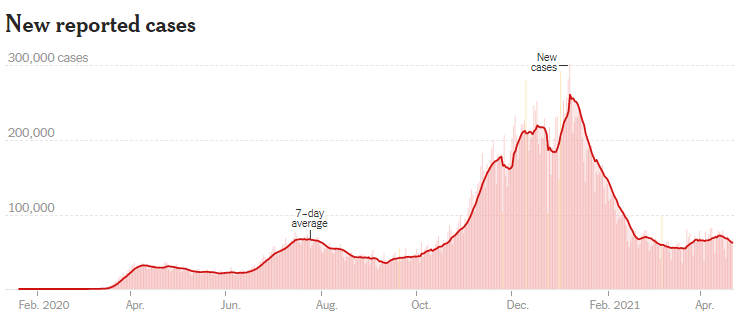 Past performance is not indicative of future results.
On the vaccine front, we continue to make strides with nearly 42% of the total population receiving at least one dose.  Most notably, nearly 53% of the population age 18 or older has received at least one shot.  This is good news for the economy since U.S. adults are the engine that drives it. 
Given the logistical challenges of distributing and administering a brand-new vaccine, it is no surprise we stumbled out of the gates initially.  However, things have quickly changed in the last few months with the seven-day average of daily shots administered sitting at around 3M.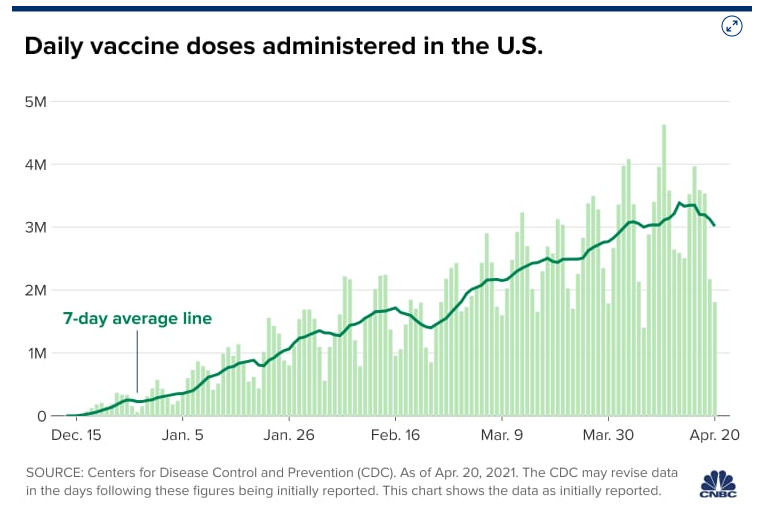 Past performance is not indicative of future results.
The slight dip in the daily pace may be due in part to the controversy surrounding the Johnson & Johnson vaccine.  The J&J shot was temporarily halted in several countries, including the U.S. and Europe, due to reports of rare blood clots forming in younger-aged women.  However, health officials have been urging the public not to panic as the clot risk associated with the dose is an estimated one in a million.  At this point, the benefits of this vaccine appear to outweigh its risks and both the U.S and Europe have decided to resume rollouts of the one-shot dose.
Looking Ahead
As a nation, it feels as though we continue to get closer to the light at the end of the tunnel.  However, as we stated above, it is a fool's errand to predict what is going to happen with this virus.  With the current situation in India, we can see that – if not handled properly – things can quickly go downhill and progress can be erased if we get complacent.  All we can do is continue to do our part, stay vigilant, and focus on the things we can control. 
When we do finally reach the end of the tunnel, several factors are brewing that could potentially unleash an economic boom.  Here are some developments just to name a few:
U.S. Real Personal incomes are 14% higher than they would have been if we did not have a pandemic.

New claims for unemployment benefits fell last week to the lowest level of the pandemic, offering fresh evidence of the labor market's recovery.

U.S. consumers are holding $2.6T in excess savings.

An upcoming infrastructure bill is making its rounds through Congress.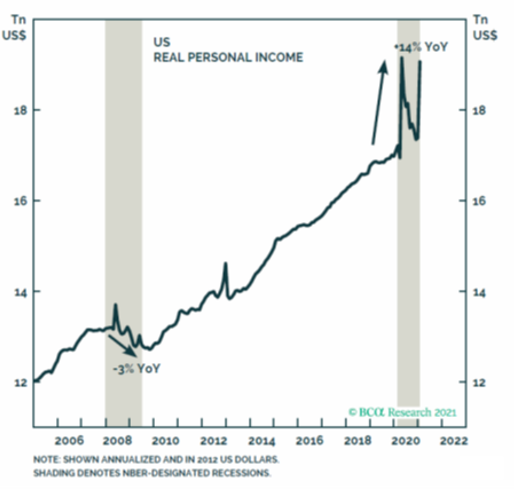 Past performance is not indicative of future results.
So, if we beat the virus and experience an economic boom, what else could possibly go wrong?  Well, as always, geopolitical concerns between the U.S., Russia and China could destabilize markets.  Higher corporate taxes could impact earnings.  Inflation could surprise to the upside.  Another virus or variant of COVID-19 could catch fire across the globe. Aliens could invade the earth. Who knows? There is always something. 
No matter what lies ahead, just know we are working diligently on your behalf to navigate the obstacles up ahead and positioning portfolios appropriately.  As always, if you ever any questions or concerns please do not hesitate to reach out.
Make it a great week.
Sincerely,