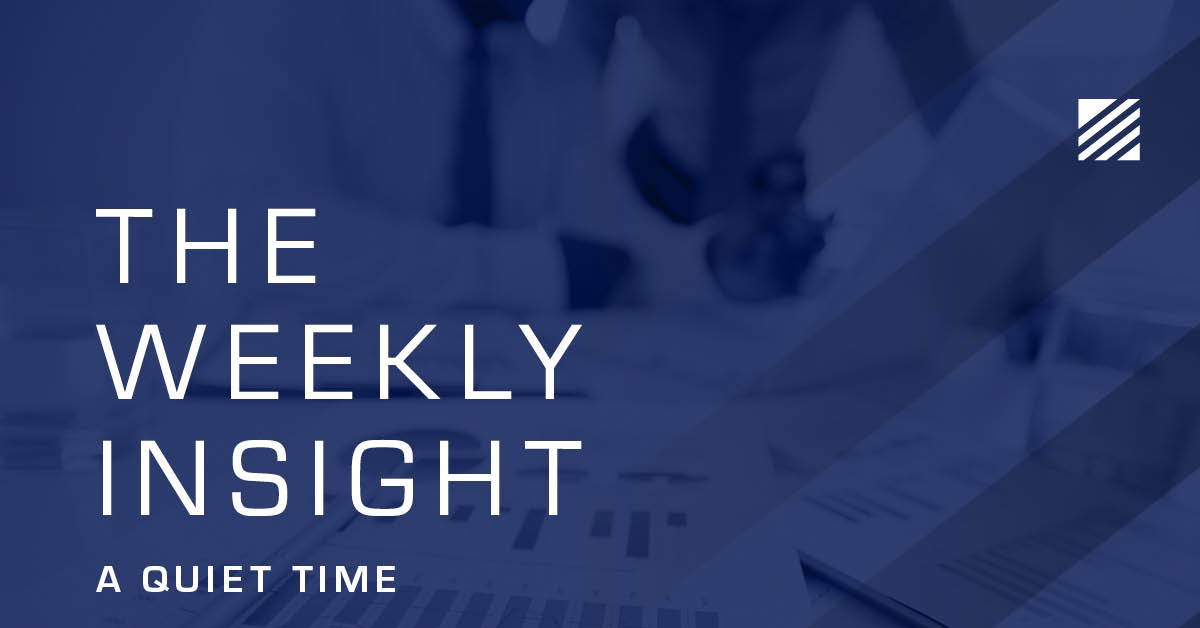 ---
Before we dive into this week's "Weekly Insight", we wanted to take a quick second to thank the more than 400 clients, friends, and family who came out to our Insight FairFest picnic at the Iowa State Fair on Saturday. It's always so much fun to spend a bit of time – outside the office – with each of you. We've been hosting this event for 8 years now – and it gets bigger every year. That is entirely due to you – our clients. Thank you so much!
---
This week is going to be a bit of a different memo. You may remember the memo two weeks ago titled The August Lull. In it, we stated:
"…historically, things start to get quiet on Wall Street and in Washington…(as)…Congress takes their August Recess and Wall Street bankers get away for a bit before the fall action begins. "
Well…it's happened! Last week just wasn't very exciting in the markets. So, we're going to do a quick recap of what happened, a quick outlook on what to look out for this week, and that's about it. You're getting off easy this week…
Last Week's Movers
Last week was more remarkable for what didn't move the market than it was for what did.  Rising COVID-19 cases, the fall of Afghanistan to the Taliban, and the lack of progress on infrastructure legislation in the House really had no impact on the markets.  They just kept chugging along.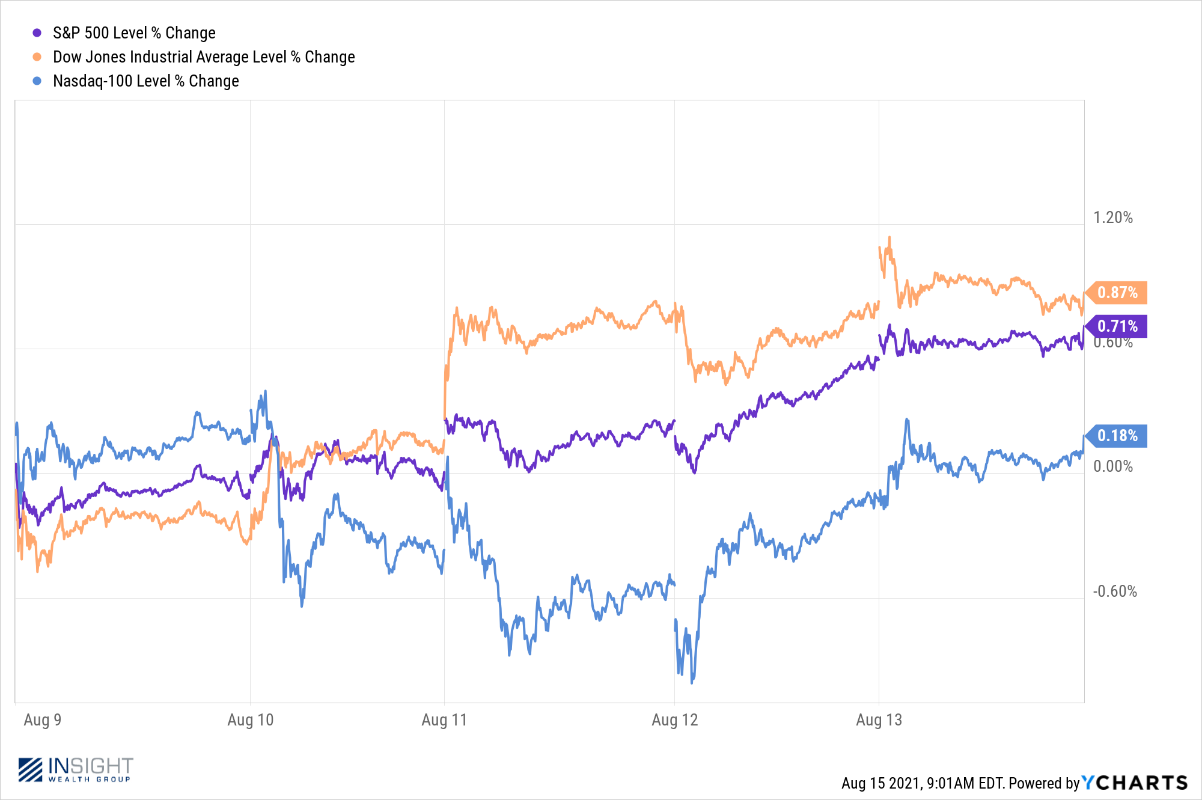 Why?  Economically the world was pretty quiet last week.  There were very few "big" data points released last week and those that were continued to be fairly positive – or at least as expected. 
Yes, Core CPI came in at 4.3%, which is far higher than what we're used to.  But it was lower than last month's 4.5%.  And yes, the $302 billion Federal Budget Deficit is…well…ridiculous.  But it was lower than the $307 billion that was expected!  How about initial jobless claims?  They came in at exactly what was expected.
So, in the end, it was a pretty quiet week.  Not great for your author, who has to figure out how to write about it!  But good for your portfolio – which is what we're really trying to accomplish.
Next Week's Movers
Last week was a big week for baseball in Iowa.  If you pay attention to baseball at all, you know what we're talking about.  The MLB hosted the first regular season baseball game in Iowa history, and it was a doozy.  The Field of Dreams Game made you remember why you loved baseball as a kid.  And if, like us, you have ties to Iowa?  It made you remember what a special place it is we call home.
So where are we going with this and next week's market movers?  Well…baseball players are a superstitious bunch.  If they're having a good run they want to make sure they do everything the same.  Hit a homerun yesterday?  Better have the same breakfast again.  And wear the same socks.  And use the same bat.  Etc., etc., etc.
We don't want to say we're a superstitious bunch around here.  We can't manage portfolios that way!  But we really hope what we're about to say doesn't jinx us for this week:  from an economic reporting standpoint, this week looks pretty quiet.
We're going to see a few things that may move the needle, but expectations are fairly muted.  Retail sales figures come out on Tuesday.  But analysts are already expecting the month over month figures to be down (-0.2%) given the rising cases of COVID.
Housing starts data is coming out on Wednesday.  Again, analysts expectations are for a settling of the pace of building.  The expectation is we'll come in at 1.602 million new starts, down from last month's 1.643 million.
The biggest news of the week will be the release of the Federal Open Market Committee minutes on Wednesday.  But while that is always an important release – given the market's dependence on low interest rates – we're not expecting dramatic news to be made.
So that get's us back to the same two issues that have been driving the market for the last several weeks:  what's going to happen with COVID and what is Congress going to do on the Infrastructure and Reconciliation Bills.  The House did announce they're going to cut their recess short to take up these issues, but they're not returning until next week meaning little is expected on that issue this week.
That leaves COVID.  And the message hasn't changed much from last week when we wrote extensively on it.  The Delta Variant continues to cause case counts to rise.  The debate across the country on how to handle it continues to rage.
We don't know the answer.  But we'll point out two data points:
The last time we had this many cases of COVID – a 7-day average of 129,000 new cases – was in early February.

 

At that point we had a 7-day average of over 3,200 COVID deaths per day.

 

Right now that 7-day average is 655.

 

Still far too many, but a good sign that vaccinations are helping with severe cases of the virus.
The Delta Variant is proving to be an incentive to ramp up vaccinations.

 

Late last week, COVID vaccinations reached their highest number in over a month with over 918,000 doses per day delivered, including 576,000 first-shot vaccinations.

 

That's up from a low of 243,000 doses administered on July 20th

.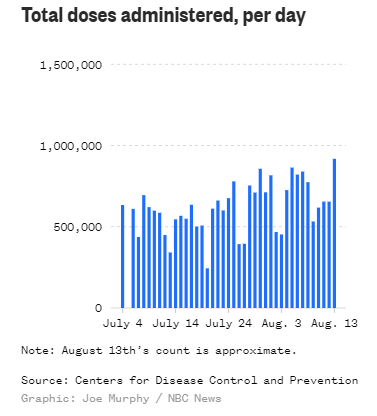 Vaccinations are not perfect.  We know that.  But data from the New York Times this week makes a pretty compelling case on breakthrough infections.  For every 100,000 people vaccinated we're seeing – on average – 17 cases resulting in hospitalization and 3 resulting in death.  Those are respective rates of 0.017% and 0.003%.  For every 100,000 people unvaccinated, those rates go up substantially to 834 hospitalizations and 65 deaths.  That means those who are unvaccinated are nearly 49 times more likely to end up in the hospital and more than 21 times more likely to die from the virus.
The last point we'll make on this.  We have all heard a lot of people tell us the 70% threshold for vaccines is important to reaching herd immunity.  We're not scientists – so we can't say for sure that is correct.  But we also hear a lot about vaccine hesitancy here in the U.S.  While there are certainly some states where this is an issue, we'd also argue it's not nearly as widespread as folks would think.
Here in the U.S. – as of last week – 197,081,471 people have received one dose of the vaccine and 167,669,170 have received a full course.  That equates to 60% and 51% of the total population. 
The common thread amongst pundits is shock that 40% of the population hasn't yet gotten a dose.  But there's a big piece of that conversation missing.  There are fully 50,000,000 people in the U.S. who are under the age of 12 and thus not able to get the vaccine.  That means that 71% of eligible Americans have received at least 1 shot and 60% are fully vaccinated.  If you assume every single eligible and unvaccinated American is "vaccine hesitant", that number comes in at 29%.  That is significantly lower than the nearly 50% who said they would be unwilling to get the vaccine back in November.  People are smart.  The more data they have, the more willing they are to engage.  We would expect these numbers to continue to improve.
Next Week's Memo
Your author is going to be out of town for a few days later this week and weekend.  As such, next week's Weekly Insight will be delayed by one day.  You should see it in your inbox on Tuesday, August 24th.
We hope this finds you well!
Sincerely,