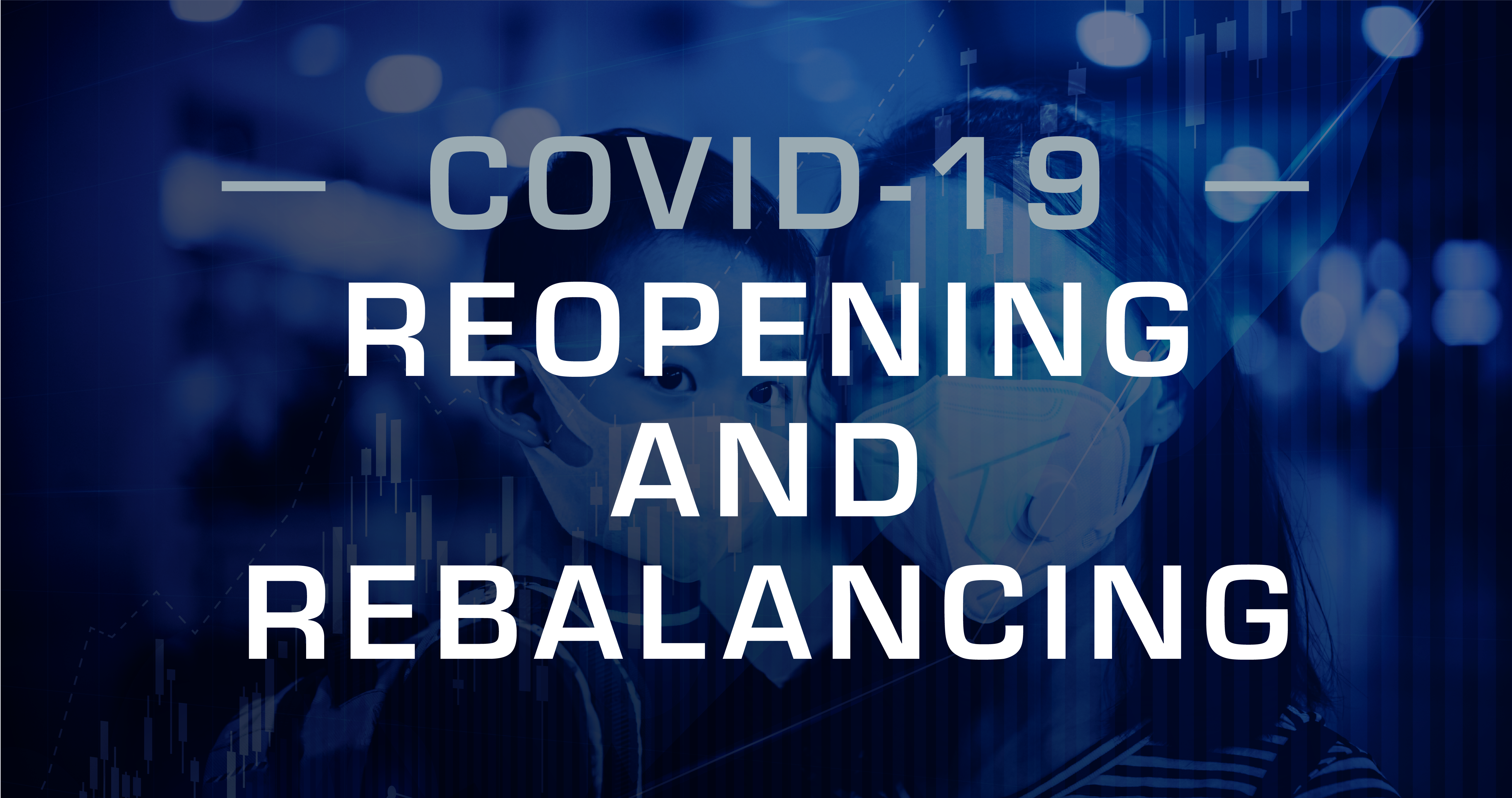 This is our 15th consecutive weekly commentary we have sent to address the struggles we have seen in our economy and the market related to the COVID-19 pandemic. In the last 15 weeks, we have experienced, alongside each of you, things we have not seen in our nearly 20 years of experience. Each week has a new wrinkle – good or bad – as our country and the world comes together to battle this horrendous disease.
In the last week, however, the focus has shifted. At Insight, we started rebalancing portfolios to take advantage of the reopenings that are happening across the country (more on that later). But outside our walls – on the streets of Des Moines and countless cities across America – we have seen an outpouring of frustration, anger, and even violence in response to the murder of George Floyd in Minneapolis. It certainly hit home for us when a member of our team sent videos of the protests and looting taking place across the street from his home in downtown Des Moines on Saturday night.
We are not here– nor do you look to us – for social commentary.  We understand there are a variety of opinions amongst our clients on how best to respond to this fraught time in American history. But this does impact the work we do for you.
Target announced over the weekend they were either closing or adjusting the hours for more than 200 stores. Curfews have been put in place in numerous American cities. It is not being discussed much, but we would imagine that thousands of citizens on the streets is not particularly good for the spread of the COVID-19 containment efforts.
So, we will watch closely this week the response in the market and economy to this unrest. There is little data we can provide at this point, but know we are taking its potential impact on portfolios seriously. In the meantime, we will leave you with this quote from Dr. King:
"Darkness cannot drive out darkness; only light can do that. Hate cannot drive out hate; only love can do that."
We could all use a little bit of light and love right about now!
Portfolio Rebalancing
Before all of this began, we addressed in our memo last week the steps being taken to get the economy up and running. Further data became available that continues to show a gradual reopening without a measurable increase in cases.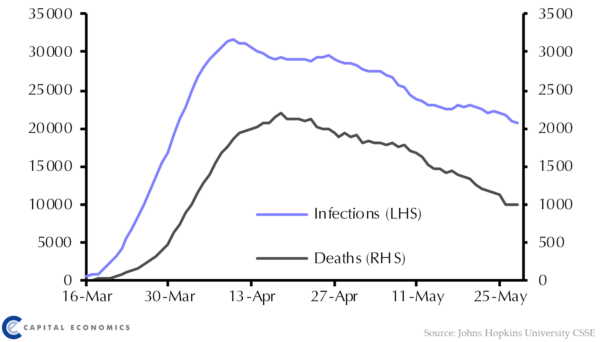 Additionally, we are – thankfully – seeing some improvement in unemployment filings. While the total number of initial jobless claims continues to rise – the number of continuing claims (i.e. those who have reverified they are unemployed) has begun to shrink. That is a very good sign.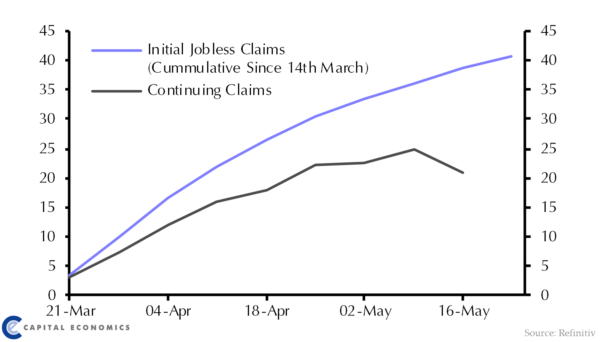 As we have stated in previous memos, we know the recovery will not be linear. While there will be good days, weeks, and months, there will also be bad days, weeks, and months. But that does not mean we can sit on the sidelines and wait until things are perfect again.
It is our belief the Federal government will act in the next few weeks to address the state and local support we have discussed in the last two memos. The result – a bill somewhere between $1 trillion and $3 trillion – will be a substantial boost to the reopening process and should serve as additional fuel for the economic recovery.
With that in mind, we undertook an effort last week in each of our core portfolios – our Growth, Conservative Growth, Balanced, Enhanced Yield, and Opportunistic Muni models – to rebalance your holdings. 
Notably, we did not completely rebalance the strategies. For example, we did not touch the high yield or energy positions in your portfolios.  While these are both areas that we believe have some of the best potential upside in the coming months, they are also the areas that have the most potential for volatility.
Instead, we focused our efforts on core fixed income and equity positions. The result was a portfolio switch that took some of the dry powder in the portfolios (positions like the Pimco Income Fund) and positions that had over-performed in this environment (like our Blue Chip Growth Fund) and used the proceeds to buy assets we believe will perform well in the next leg of this recovery. That included increasing our exposure to international equities, mid-cap equities and core fixed income positions.
This is not us standing on the gas pedal in this environment. Even without the events of this weekend, we do not think we are there yet in the economic recovery But there are enough signs in front of us that point to a gradual strengthening of the economy to justify this move.
New Info on PPP Loans
The SBA's Paycheck Protection Program loans have been one of the more significant fiscal support policies put in place by the government during the COVID lockdown. Many of our clients who are businesses owners have taken advantage of the program to allow them to weather this storm.
If you have taken a PPP loan, we are now getting to the stage where banks and businesses are starting to calculate the forgiveness of the loan. In previous iterations of the program, a loan would be forgiven completely if you had maintained your staffing levels and had spent at least 75% of the funds on employee salaries and benefits.
If you have no question about passing those initial standards, we suggest you look to immediately apply for loan forgiveness, if only to get the specter of the government off your back.
However, if you have concerns about whether your loan will be completely forgiven, it may make sense to wait, if only for a few weeks. We are hearing that Congress is seriously considering a bill that would lessen the requirements for loan forgiveness, including dropping the payroll requirement to 60% of the original loan amount. That may prove beneficial for some businesses. 
If you need assistance working through the loan forgiveness application (which is – of course – significantly more complicated than the original loan application!), we encourage you to reach out to the team at Insight CPA. Scott Manhart and his staff have been helping dozens of business owners through this process and you may find their experience beneficial.
---
As always, we hope this memo finds you safe and healthy. This is a strange, frustrating time in American history. But if our history teaches us anything, we can do amazing things when we let our better angels guide our way. 
If you need anything at all, please do not hesitate to reach out. We look forward to being of assistance.